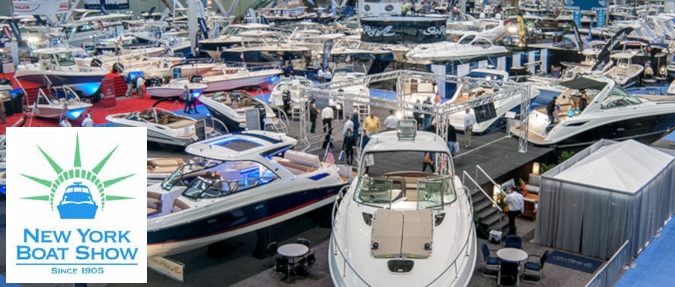 Beginning today and running through the weekend, five of the industry's boat shows will be open to the public, offering the year's best deals, seminars, career opportunities, hands-on experiences and fun for the whole family. Check out Show highlights below for Louisville, New York, Baltimore, Minneapolis and Schaumburg:
The Progressive ® Insurance Louisville Boat & Sportshow® opens today, filling the Kentucky Exposition Center with hundreds of new boats, RVs and outdoors accessories. New this year, to attract crowds on Thursday night, the show is offering a "Super Thursday" $5 after 5 ticket featuring one-day only special offers and meet-and-greets with superheroes. The show will also feature the Hawg Trough, an interactive 5,000-gallon aquarium, where attendees can watch anglers demonstrate their fishing and casting skills; a Yogi Bear™ appearance hosted by Yogi Bear's Jellystone Park™ Camp Resort Mammoth Cave; and seminars led by regional outdoor personality favorites. Returning favorites include the Kids' Trout Pond and Paddle Sports Pool.
Additionally, the Progressive® Insurance New York Boat Show® begins today at the Javits Center, also offering its first ever Super Thursday event. After 5 p.m. attendees can snag $5 tickets in addition to the best food, drink and discounted savings from exhibitors. Even more, the show is launching it's first-ever all-day Career Fair open to job seekers across all aspects of the industry, plus presentations for hundreds of NYC high school and college students interested in a marine career. Additional features also include an expanded Touch-a-Boat tour with more than ten boat stops and a Build-A-Boat activity for kids.
Tomorrow, the Progressive® Insurance Baltimore Boat ShowTM begins at the Baltimore Convention Center. Back by popular demand is the 9th Annual Crab Pickin' contest and the Touch-A-Boat Tour for kids, in addition to the 5th Annual Career Discovery Day in partnership with the Annapolis School of Seamanship and the Marine Trades Association of Maryland on Friday, January 25th. The Career Day invites local high school and technical students interested in pursuing a career in the marine industry. Additionally, new to the show is Go Fishing Friday, competing to reel in the most fish against the Show's virtual fishing simulator.
Additionally, the Progressive® Insurance Minneapolis Boat Show ® kicks off tomorrow. The sold-out event will fill the Minneapolis Convention Center with more than 700 new boats from the region's leading dealers and manufacturers, with several new boats and marine companies set to make product debuts. Returning for the 2nd year are the Minneapolis Boat Show Innovation Awards. Award winners will be announced this evening during the show's sneak preview night. New features this year include the Twin Cities Beach Bash experience, and returning favorites include the Antique & Classic Boat Display and Island Lifestyle Experience.
Finally, the Progressive® Chicagoland Fishing, Travel & Outdoor Expo also begins tomorrow. The Show is jam packed with seminars hosted by the industry's most elite anglers, including Brandon Palaniuk (2017 Angler of the Year), and Joe Bucher (Fishing Hall of Famer). Additionally, other fun and exciting features include the Hawg Trough, the hands-on virtual reality fishing simulator, and the popular Wings & Talons experience featuring birds of prey including hawks and owls.
This week's boat and sportshows have been making headlines across the country, helping drive positive awareness for the Shows and industry . More media is scheduled to start covering the shows tomorrow and throughout the weekend with recent highlights include:
USA Today (picked up from the Courier Journal) – Louisville Boat, RV & Sportshow: Dream Homes, a Luxury Sport Boat You Can Live Aboard
Insider Louisville – Louisville Boat, RV & Sportshow: 62nd annual boat and sportshow should help you channel that warmer weather
FOX & Friends – New York Boat Show: Sneak Peak of 2019 NY Boat Show!
New York Daily News – New York Boat Show: GRIDLOCK SAM: Women will be marching, and streets will be closed
Baltimore Sun – Baltimore Boat Show: The Week's 10 Best (print)
Baltimore Sun – Baltimore Boat Show: MLK, Orioles FanFest and boats aplenty — the best of the Baltimore area's A&E scene this week
Chicago Sun-Times – Chicagoland Fishing, Travel & Outdoor Expo: Coyote, perch guide, Coast Guard pay, Michigan outdoors: Notes, Chicago outdoors
Northwest Herald – Chicagoland Fishing, Travel & Outdoor Expo: Sarley: Expo season is really about to heat up
Minnesota Monthly – Minneapolis Boat Show: Progressive® Insurance Minneapolis Boat Show®
Watch these videos to learn more about the Shows & we encourage you to share them across your social channels!