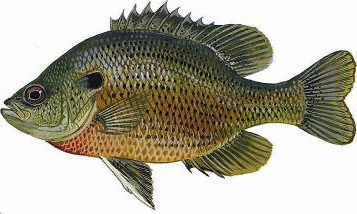 A variety of panfish, or bream as they are popularly known, is available throughout Florida. Bluegill, the most common panfish, thrives in lakes and ponds, but good populations are found in rivers, particularly below dams. Bluegill eat mostly insects and their larvae, but worms are the best bait, either fished on the bottom or suspended below a float. Bluegill spawn throughout the summer, congregating in large "beds". Anglers may find 30 – 40 shallow nest holes scooped out in shallow areas. Crickets, grubs, sand maggots or grass shrimp will all catch bedding bluegill. Use a small hook, #6 or #8, with a split shot sinker about six inches up the line, and concentrate on water less than six feet deep. For artificial baits, a 1/8-oz. "beetle spin" with a white or chartreuse body on ultralight tackle is an excellent choice. To learn more and for some interesting videos visit: http://bit.ly/FS-BG
The redear sunfish, or shellcracker, is another popular panfish. Although they prefer snails and clams, redear sunfish are caught most often on earthworms around the full moons of March and April when their spawning activity peaks. Redear prefer hard bottom, congregating in deeper water than bluegill. Shellcracker grow larger than bluegill, with fish over 1 pounds common.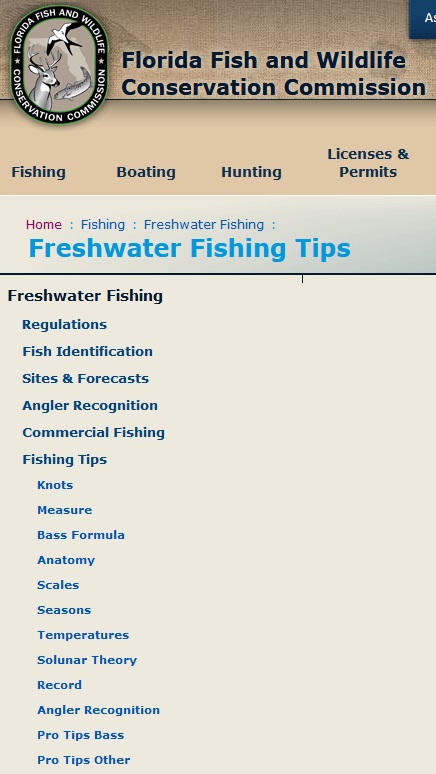 Redbreast sunfish, also known as river bream and redbellies, are the flowing water cousins of bluegill. Redbellies are more common in rivers than bluegill, and often can be found in backwater areas with less flow. The same live baits that work for bluegill will also catch redbreast sunfish.
The spotted sunfish, or stumpknocker, is an often overlooked stream panfish. Aptly named, the stumpknocker can be found in the tangle of roots at the waters edge. Although spotted sunfish rarely exceed eight inches, this feisty species provides great sport on light tackle. Tiny (1/16 oz.) beetle spins pitched close to the shoreline can be deadly, particularly tipped with freshwater clam meat. The lower Suwannee River is one of the best spots for this sportfish.
Black crappie, known locally as speckled perch or specks, are a cool weather favorite in Florida. Crappie weighing up to two pounds are not uncommon. The premier fishing location is Lake Okeechobee, but good crappie fishing can be found throughout the state. Unlike most other panfish, crappie spend much of their time offshore, feeding on small fish. Successful anglers often drift through deeper water, fishing with small minnows or freshwater grass shrimp until they find a school. Try a light wire #4 hook and small split shot below a float. Speck anglers typically use several rods or poles, fishing at different depths until they pinpoint concentrations of fish. Specks move inshore to spawn during the early spring, sometimes gathering in large numbers around heavy cover. Crappie also readily strike artificials; 1/16 oz. to 1/8 oz. feathered or curly-tail jigs in white, yellow, pink and chartreuse are popular. Tipping these jigs with a live minnow makes them even more effective. Night fishing for crappie is an effective technique. Any of the above baits fished near a lantern or floodlight can produce nice stringers. Most crappie fishing occurs in the cooler months, but anglers who fish into the summer do very well, especially at night. To learn more and for some interesting videos visit: http://bit.ly/FS-BC