A few of us remember when affordable, American made knives, axes, shovels and basically anything with a blade were a dime a dozen.  Well, today you have to search high and wide for an affordable, American knife or axe.  The keyword here is "affordable".  Believe me, there is no shortage of really good American knives on the market. The issue is, like American made fishing rods, many of these knives are out of the financial reach of the average hunter and angler.  With that said, a good knife could save your life so spending a little more now may be worth it for you in the long run.  American blades tend to be made with high quality steel and they last forever.  Like I've said in the past, you get what you pay for.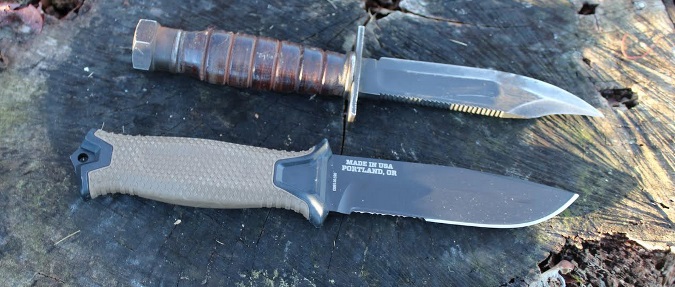 In my research I was very sad to see that knife companies that I have grown up with, such as Schrade, Gerber, Buck and even K-Bar, have taken some, if not all, of their work overseas.  Just take a look at the knife isle at your local store and see what I am talking about.  Even if the product is "made" here in the US, some of the important parts, like the blade, are made overseas.  Many of the axes are this way.  Make sure that you not only read the package, but also look at the blade itself.  If the blade was forged here it will be stamped "USA".  Don't go just by the brand name.
    I carry a Gerber Strongarm fixed-blade knife when I go into the field.  I love that knife.  This knife was made in America, but there are many Gerber knives that are made overseas.  My very first "real" knife was given to me by my great uncle, the man I am named after.  The knife is a K-Bar Little Finn.  This knife is probably close to 100 years old and it was made in America.  Today, for the information I found, the only K-Bar knives that are American made are the combat knives used by the military.  My next knife was a Schrade Old Timer that I got back in the 1970s.  It too was made in the USA, but today all knives and axes made by Schrade are made overseas.  Buck knives are what most of us grew up on.  Today some are made here; some overseas.  Be aware of what you are buying.  Of the quality knives that I have found, have used and are American made, and I mean all of their knives are American made, the knives made by Ontario Knife Company (OKC) standout.  Through my years in the military, the 499 Survival Knife was the knife I carried.  I still have that knife and after 40 years it is still going strong.  That knife has since been retired and holds a special place of honor in my office.
    The good news is that any article that is made for use or issue to the US military, by order of Congress, has to be American made.  That means that K-Bar, Gerber and the others that make knives and want to sell them for use by our troops, has to make American made versions.  Look for these when shopping for a bladed tool.  All of the companies have an "American made" section on their websites.  Remember that American made knives will stand the test of time and you'll probably only have to buy it once.  Some money spent now could pay dividends in the future.
Made in America Challenge
Part One – https://www.odumagazine.com/made-in-america-challenge/
Part Two – https://www.odumagazine.com/american-made-challenge-part-ii-the-search/
Part Three – https://www.odumagazine.com/american-made-challenge-part-iii-clothing/
Part Four – https://www.odumagazine.com/american-made-part-iv-fishing/