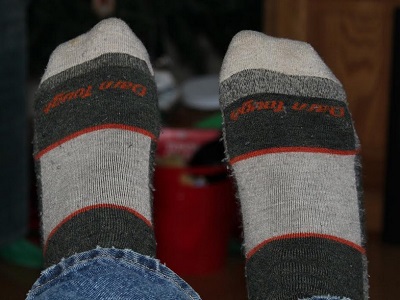 By far the toughest nut to crack in this challenge has been clothing.  Looking on the shelves of any store, even the so called "All-American" outdoor stores like Bass pro Shops, Eastern Mountain Sports and L.L. Bean you'll be hard pressed to find any clothing made in America.  It is not because there isn't American made clothing out there, because there is.  It is because the stores don't carry them.  If Americans are willing to buy mass quantities of cheap foreign made stuff, why should they?  It is all about the bottom line. Welcome to America.
    With a little good old investigation and some appreciated help from ODU readers, I was able to find some of those American companies.  Right off the bat I found part of the problem.  It is the price.  Due to cheap foreign labor costs, those foreign made products can be sold at lower prices while at the same time giving the shareholders a measure of profit (the key word here being "profit").  There is an old saying, "You get what you pay for".  While American made clothing is more expensive up front, you'll find that it normally lasts longer.  I have some American made clothing that is 10 years old, or older, and it is still going strong.  I have gotten more than my money's worth out of it.
    The second issue is the term "American made".  Even though the clothing is made right here in the USA, some of the materials being used is foreign sourced.  A great deal of the wool comes from Australia.  Even the cotton may not be American produced.  Why?  It is very simple; we don't produce enough of these materials.  Our farms, the backbone of America, are disappearing.  Many of the people I spoke to said they would by American materials if there was enough of it and most of them buy American when they can.
    No matter who you buy from you need to read the labels, or ask questions.  Even some of the best companies also sell foreign made products.  Don't go just by the name.  Those products that they do sell that are made in the US are usually very good quality.  The list that follows includes five companies whose clothing is made here in the US and they are relatively affordable.
Johnson Woolen Mills:
Wool and flannel clothing made in Vermont.  Johnson Woolen Mills produces high quality clothing geared for the outdoorsperson and the prices aren't bad.  I have some of their clothing and you will be hard pressed to wear it out.  www.johnsonwoolenmills.com
Darn Tough Socks:
Another company in Vermont.  Darn Tough makes some of the best wool socks around.  These socks never seem to wear out and if they do Darn Tough will replace them.  Yes, they cost more than other socks, but they are well worth every penny.  www.darntough.com
Day One Camouflage:
Day one has been making their camo clothing in Colorado since 1987.  Their unique camo patterns have been used around the world, from Alaska to Africa.  I'm sure they will work where you are.  www.dayonecamouflage.com
GoWild Camo:
GoWild Camo makes their clothing in Montana.  They are a go to company if you are looking for quality camo clothing.  They make everything from base layers to hats, all in a variety of patterns.  www.gowildcamo.com
Outdoor Technologies:
During the summer I live in UV Protective clothing.  Outdoor Technologies produces that clothing right here in the US, using US sourced fabrics.  All clothing is made in Indiana.  You don't get any more American than that.  www.outdoortechwear.com
    At the end of the day do you really think that I will get rid of the outdoor clothing that I have, foreign or not?  No, I won't, but what I will do is start buying these products, one at a time, as my other stuff wears out.  In the short term buying American can be expensive, but if you look long term, you will actually save time and money buying these American made products.  My dad used to say, "You buy quality only once; you buy cheap for the rest of your life".