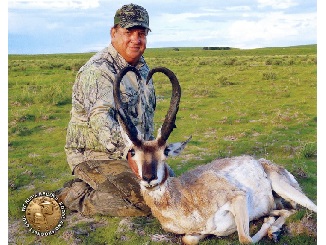 The Boone and Crockett Club's National Collection of Heads and Horns received a permanent donation of the new World's Record pronghorn from Mike Gallo during the Club's 29th Big Game Awards banquet held in Springfield, Missouri, this past week.
"We were there to honor this great animal and Mr. Gallo, and he honored the Club with a gesture that will benefit a lot of people," said Justin Spring, Boone and Crockett's director of Big Game Records.
The Club's 29th Big Game Awards was hosted by Bass Pro Shops to celebrate the traditions of hunting as the cornerstone of North American conservation. Attendees were treated to a unique experience that included viewing some of the largest Boone and Crockett animals entered over the past three years, as well as VIP behind-the-scenes tour of the Wonders of Wildlife National Museum and Aquarium. The new museum, slated to open sometime late in 2016, is also the new home of the Club's National Collection of Heads and Horns.
Gallo, who took the largest pronghorn in recorded history in 2013, was on hand to accept its first-place award and then made the announcement of his decision to donate his trophy to the Club. The buck, which measures an astounding 96-4/8 B&C points, was taken in Socorro County, New Mexico, and surpassed the previous record pronghorn by 1 inch.
The National Collection of Heads and Horns was established by the Club in 1906 at the Bronx Zoo in New York City as a public exhibit of animals that were on the brink of extinction at the time. Its purpose was to inspire more people to support a new concept being popularized by the Club and others, called conservation.
Spring explained, "With a few exceptions, it is rare for the public to get a chance to see actual World's Record specimens because they stay in private collections. Now being in the museum and in our National Collection more people will get the opportunity to enjoy and appreciate what an impressive pronghorn this is."
The National Collection of Heads and Horns now features four World's Records and an additional 35 historically-significant and high-ranking big game specimens from across North America, as well as exhibits on the history of conservation and sportsmen.