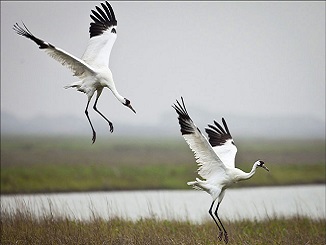 They say a picture is with worth a thousand words. The lands and waters conserved by the U.S. Fish and Wildlife Service within the National Wildlife Refuge System are among the most picturesque natural places on Earth. They are also home to some of the most compelling fish, wildlife and plants on the planet.
So, today the National Wildlife Refuge System is beginning a series of weekly online stories that will use photos to highlight the conservation work and visitor opportunities at national wildlife refuges, wetland management districts and marine national monuments. These photo-heavy stories are scheduled to be posted prominently on the Refuge System homepage each Wednesday and to remain there for a week.
The first story, "A Beginner's Guide to the National Wildlife Refuge System," is – as its title suggests – designed to give veteran conservationists and newcomers alike a brief sense of what the Refuge System has become since its founding by President Theodore Roosevelt in 1903.
RELATED: Find a refuge near you
Please click through the photos, follow along in the captions, click on a hotlink or two along the way. If you do, you'll see that, yes, the Refuge System is primarily for fish, wildlife and plants, but it's also for people.
 In addition to providing habitat for more than 380 threatened or endangered species, providing resting, nesting, feeding and breeding spots for hundreds of millions of migratory birds, and conserving ecosystems from the Pacific to the Caribbean and Alaska to Maine, the Refuge System offers world-class recreation.
On hundreds of national wildlife refuges, you can fish, hunt, hike a trail, photograph wildlife and enjoy environmental education programs.
The network of lands and waters conserved within the National Wildlife Refuge System includes some of the most important, distinctive, breathtaking and pristine habitat in the world. Among those places are Arctic National Wildlife Refuge in Alaska, Okefenokee National Wildlife Refuge in Georgia, Wichita Mountains Wildlife Refuge in Oklahoma and the deepest area on Earth, Mariana Trench National Wildlife Refuge in the Northern Mariana Islands.
Learn more about all of it by checking out "A Beginner's Guide to the National Wildlife Refuge System," by regularly checking in on our homepage, and by following us on Facebook, Twitter, Flickr and YouTube. Please consider sharing what you find with folks you know. Thanks.