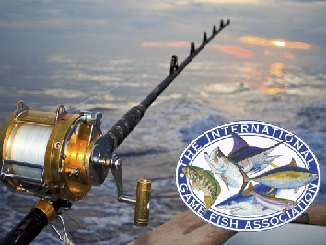 Potential new world record applications have recently been submitted for this huge southern bluefin tuna from Tasmania, a gorgeous golden dorado from Bolivia, a swordfish from Australia, and a trahira from Brazil.
Hammersley's Southern Bluefin Tuna – Aussie angler Chloe Hammersley – age 15 – landed this massive 104.2 kg (229 lb 11 oz) southern bluefin tuna (Thunnus maccoyii) on April 15th while Fishing off Eaglehawk Neck, Tasmania. Hammersley battled the hard fighting tuna for nearly an hour after the fish ate the squid/skirt combo she was trolling behind the Black Magic – captained by Chloe's father, Josh Hammersley. If approved, the catch will become both the new Female Junior record, which stands at 80.7 kg (177 lb 14 oz) , as well as the women's 60 kg (130 lb) line class record, which stands at 80.54 kg (177 lb 8 oz).
On May 14th, Aussie angler Tegan Lucardie caught a swordfish (Xiphias gladius) on 15 kg (30 lb) class tackle, that could possibly replace a record that has stood for more than 20 years. Lucardie was fishing out of Eden, Australia aboard the Shockwave, captained by Brian Schofield. The 140 kg (308 lb 10 oz) broadbill was hooked while drifting a squid, and then proceeded to fight for nearly five hours, before it was eventually subdued. The current IGFA record stands at 135.1 kg (297 lb 15 oz).
Brazilian angler Manuela Drigo de Almeida, age 14, caught and released this 9.02 kg (19 lb 14 oz) trahira – also known as wolf fish – while fishing out of Pousada Juruena, Brazil on July 6, 2016. Manuela skillfully played the fish on her light tackle outfit for 40 minutes, before it was eventually landed, documented, and released alive. If approved, the catch will earn Manuela the new women's 3 kg (6 lb) line class world record.
Colombian angler Alejandro Linares caught and released this gorgeous 13.15 kg (29 lb) golden dorado (Salminus brasiliensis) on June 6th, while fishing Bolivia's Rio Torija. Linares was casting a popper style lure in the quick moving current, when the fish crushed the top water bait. After a 10 minute fight, Linares had the fish subdued, and quickly documented the catch before releasing the fish alive. If approved, the catch will earn Linares the new men's 8 kg (16 lb) line class record, which currently stands at 9.07 kg (20 lb).