H&N's Hornet has been a popular pellet choice for airgun hunters looking for accuracy and tough, penetrating power. Now, the popular pellet line has expanded, with offerings now available in .25 caliber. Designed for maximum penetration, the Hornet's aerodynamic design incorporates a brass tip, which is much harder than polymer tips found on other tipped pellets. This specialized tip also makes the Hornet much sharper than polymer-tipped pellets and ideal for small and medium sized bird game and reptiles.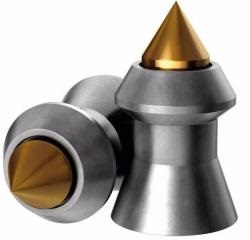 But the Hornet is designed for more than just accuracy and penetration. Unlike many pellets found on the market today, H&N's Hornet is designed to fit in most rotary magazines for PCP airguns. This means more powerful shots, and faster follow-up shots in addition to the pellet's excellent penetration.
Like all pellets from H&N Sport, Hornet pellets go through H&N's proprietary surface treatment that not only cleans the pellets of manufacturing residues, but also slows oxidation and reduces lead abrasion – ensuring clean shots with little lead fouling that is both good for the airgun and more safe to handle.
H&N's Hornet is the perfect medium-sized pellet for hunting medium-sized birds and game and is available in .177, .22, and .25 calibers.