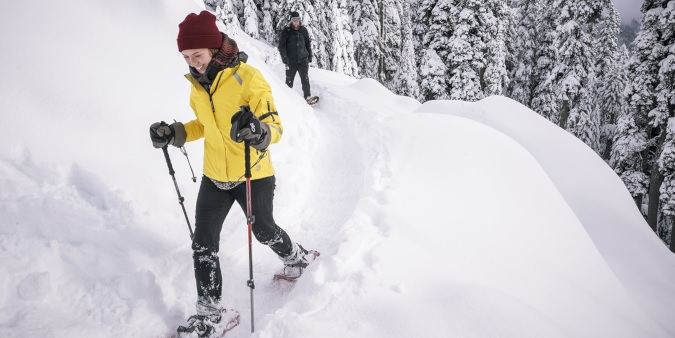 Why go snowshoeing? What started thousands of years ago as a mode of transportation has evolved into a popular winter activity for recreation and fitness. Here's why:
It's easy: As the saying goes, "If you can walk, you can snowshoe." The learning curve is much shorter than that of skiing or snowboarding. A few techniques worth practicing: widening your stance (to avoid stepping on snowshoe frames), going up and down hills, traversing slopes and pole usage.
It's inexpensive: Required gear includes snowshoes, appropriate footwear and clothing, and (maybe) a pair of poles. That's it! No lift ticket is required.
It's a good workout: Snowshoeing offers low-impact, aerobic exercise that helps you stay in shape during the winter.
While snowshoe styles are pretty versatile, manufacturers divide them into 3 activity categories to help you get the best performance and value.
Flat terrain: Designed for easy walking on flat to rolling terrain; ideal for families. Includes entry-level models that offer good value.
Rolling terrain: Best for hiking on rolling to steep hills; suitable for all but very steep or icy conditions. Good for hiking off the beaten track.
Mountain terrain: Built for icy, steep terrain. Aimed at those who blaze their own trails for hiking or backcountry snowboarding.
Video: How to Choose Snowshoes
Always wear suitable boots and moisture-wicking clothing layers for snowshoeing. Our suggestions:
One exception to the above: Trail-running snowshoes should be worn with lightweight running shoes or cross-trainers.
Layer your clothing so it can be adjusted to your activity level and the weather. Avoid cotton.
Base layer:

Synthetics and wool retain warmth even when wet. Wear long underwear that wicks away moisture, insulates well and dries quickly. Choose from microlight, lightweight or midweight versions based on the temperature and your activity level. A zippered top lets you adjust body heat as you stop and go.

Insulating layer:

Polyester fleece makes a good insulating mid-layer since it retains heat when wet and breathes as you exercise.

Outer layer:

A waterproof, breathable shell jacket and pants keep you dry and fend off wind.
Hat, Gloves and Accessories
Keep your head and hands covered to prevent loss of body heat and to protect from sunburn.
A wool or synthetic hat, headband or balaclava retains heat; a wide-brimmed hat or a ball cap can shade your eyes on sunny days.
Waterproof ski gloves or mittens are a must to keep your hands dry and warm. On cold days, combine shells with fleece mittens or gloves. In milder conditions, glove liners may be all you need.
Sunglasses and sunscreen will protect you from burning UV rays which are especially intense when reflected off of snow.
See our complete snowshoeing day hiking checklist.
Walking on flat or rolling ground is fairly intuitive when you first start out. Most snowshoes have simple "strap and go" bindings that fit a wide range of boot styles and sizes. Your stance should be wider than normal when you're on snowshoes (in order to keep from stepping on the insides of the frames), so you may feel your hips and groin muscles ache after the first few times out.
Backcountry snowshoers will often be sharing the trail with cross-country skiers. Try to make your own trail whenever possible, staying out of the tracks skiers have worked so hard to set. Skiers have the right-of-way on trail systems, since it's easier for a snowshoer to step off the trail safely than it is for a skier to stop or go around. Always be polite to the folks you meet along the trail.
As you ascend hills, you use your toe or instep crampons for traction. Always place your feet firmly on snow, poles in front of you. Several techniques can come into play, depending on the conditions.
In powdery snow, use the

kick-step technique.

Pick up your foot and literally kick into the snow with the toe of your boot to create a step. Your snowshoes will be on the angle of the slope, with the tails hanging downhill behind you and the toes above your boots. This plants the crampons or cleats into the snow, directly under the balls of your feet. If conditions are such that a kick-step ends up just creating a deep hole in the snow, then look for a different route.

On crusty, hardpack snow, you probably won't be able to kick step. Instead, you'll be relying on your traction devices (claws) and poles. Walk up the slope, but if it's too steep try to find an easier traversing route.

On moderate to steep slopes, flip up the

heel lift

feature (also known as a climbing bar or Televator) found under the heel on many snowshoes. This puts your leg in a more comfortable position for long ascents.
On descents, keep your poles planted in front of you, knees bent and relaxed, and your body weight slightly back. Walk smoothly and plant heel first, then toe. A few considerations:
Your instinct will be to lean back on the snowshoe tails. This reaction works well on models with angled crampons built into the heel, which are designed to dig in as you descend.

When wearing snowshoes without heel crampons, you'll need to keep your weight over your feet, so your toe crampons will be planted firmly. Poles can provide a great deal more balance and control as you descend.

Avoid overswinging your leg as this can cause your tails to flip out in front of you. If the slope steepens, be sure to keep your weight back. If you slip, just sit down.
Traversing or "side-hilling" is a common method of travel and can be used to avoid overly steep or difficult terrain. Keeping your balance is key.
Push the uphill side of each snowshoe into the slope to create a shelf as you move along. Keep your weight on the uphill snowshoe.

If possible, walk in the steps made by the person in front of you.

Use your poles. Extend the downhill pole and shorten the uphill pole until they're even.
While optional on flat terrain, poles come in handy on many snowshoeing outings. They not only provide you better balance, they also help give your upper body a workout.
Adjustable poles are best. They can be shortened for uphill travel, lengthened for descending. And when crossing slopes, one can be extended for the downhill side and the other shortened for the uphill side.

Pole length should be adjusted so your arm is bent at a right angle. Flip your pole upside-down and grab the pole just under the basket. Adjust the length until your elbow is at a right angle.

Pole straps are used properly when you put your hand up through the strap from below. This allows you to rely on the straps alone at times to give your hands a brief rest.
Video: Pole Basics for Snowshoeing
It doesn't happen a lot, but you can fall down when snowshoeing. This occurs most often on descents. When you feel yourself starting to fall, try to lie back or on your side. To get back up, take your pole straps off and move your poles and hands so they are sideways to the hill. Roll your body to get your knees underneath you and pointed towards the slope. Use your poles as a brace to help you stand up.
Using an Ice Axe (Self-Belay, Self-Arrest)
For steep, mountainous terrain, an ice axe is an essential piece of snowshoeing gear. Self-belay involves planting the shaft of the axe into the snow to guard against falling in the first place. If you should slip and fall, the self-arrest technique is used to stop you before you slide too far. Proper instruction and practice are necessary to learn these techniques.
Running
It is possible to run with snowshoes if you wear running-specific snowshoes, which are narrower and lighter than traditional snowshoes. Learn the basics from this video:
Video: Tips for Running in Snowshoes
For safe snowshoeing, stay within the limits set by your physical abilities, the environment and your gear. Stick to established trails at first. Many ski areas have cross-country ski trails that snowshoers can share. (Just be sure to follow trail etiquette and stay off the ski tracks.) That way, you're never too far from other people, and you're not likely to encounter avalanche hazards. Do not snowshoe alone.
Always come prepared with the appropriate gear (see our checklist), including plenty of warm clothing, food, water and the Ten Essentials.
Backcountry travel has certain hazards you need to be able to recognize. Creek crossings, changing weather, avalanche conditions, and tree or rock wells can be difficult or downright dangerous. Learn about these hazards before you go into the backcountry. It is your personal responsibility to be aware of your surroundings.
If you plan to venture away from a patrolled ski area, be sure you and your companions are prepared. Carry a topographic map of the area, a compass and possibly an altimeter or a GPS to help you navigate. Know how to use them, because the backcountry in winter is not the best place to learn. In addition to the helpful navigation books you can find at REI, consider taking an REI Outdoor School class on map & compass navigation and GPS usage. Before heading out, leave your trip plans with a responsible person and let them know whom to contact in case you don't return on time.
Be sure to carry extra layers for warmth, particularly an extra base layer (long underwear) top in case the one you're wearing gets wet from exertion or the weather. Know the signs of hypothermia so you can recognize them in members of your party.
It's as important to drink during cold-weather exercise as it is in summer. Not only does water keep your muscles functioning, it also helps your body fend off hypothermia. Keep your water from freezing by using an insulating cover for your water bottle. A vacuum bottle with hot drinks will keep you hydrated and warm. (And you'll make friends if you share.) See our info on Hydration and Hydration Packs: How to Choose, or shop our selection of hydration items.
If you plan to go into the backcountry, make sure every member of your party carries an avalanche beacon, probe and a shovel. Check snow conditions before you head out and plan your trip to avoid avalanche-prone slopes. Pay attention to signs of unstable snow and either reroute your trip or turn back if necessary. Many REI stores and other groups offer courses in winter travel and avalanche safety.
Below are a few suggestions to get you started. REI offers many books on where to snowshoe locally, plus you should consider local clubs or the taking a class with the REI Outdoor School.
Cross-country ski resorts. These areas charge a fee to use their groomed trail system.

Permit areas. Known in some states as Sno-parks, these are areas where you can park (for a fee) in a plowed location close to trails and snow-play areas.

Any area where you hike in the summer or ski off-trail in the winter.

National forests and state parks.

Other mapped routes, established trails and controlled areas.