Fenix L Series are brilliant tools for search and rescue teams, outdoor adventurers, tactical users, and more. Using the standard AA battery makes finding power for Fenix LD flashlights simple. Designed around the concepts of usability and performance, this series can meet any need. An extra level of quality control goes into all Fenix lights, reaching its zenith in the craftsmanship of the L Series.
Fenix truly outdid themselves when they released this beast of a search light. Measuring under 6.5 inches in length, this compact search light can produce a whopping 4200 lumens in its highest mode. That makes it one of the brightest flashlights on the market, regardless of size.  Powered by four rechargeable 18650 batteries, this light has the power, reliability, and functionality to make it one of the most impressive LED devices available.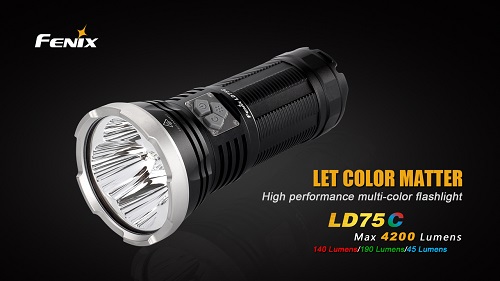 Red, Green, Blue, and White LED's
On top of its ultra-bright XM-L2 U2 primary LED, the LD75 also packs red, green, and blue LED's. Each of these modes offers preserved night vision, enhanced, map reading, and optimal blood tracking for hunters, hikers, tactical users, and adventurers. Accessing the various modes is easy with the light's three side-switch configuration. Each colored light has a single mode, while the primary white light has five outputs to choose from.
Advanced Circuitry
The LD75's double circuit design provides flexible power options so you can power your light in a jam. Normally, the light runs off of four 18650's or eight CR123's. Thanks to its advanced circuitry, the light can also run off of only two 18650's or four CR123's. The light is fitted with reverse polarity protection and thermal protection which guards against improper battery installation and high temperatures.
Specifications
Utilizes Cree XM-L2 U2 LEDs and XM-L color LED with a lifespan of 50,000 hours

5 Regular Modes of Operation

Turbo: 4000 Lumens (1 hour 30 min.) When combined with the 200-Lumen White LED in the Specialized mode, you get 4200 Lumens

High: 1800 Lumens (3 hours)

Mid: 600 Lumens (11 hours)

Low: 200 Lumens (35 hours)

Eco: 40 Lumens (175 hours)

5 Specialized Modes of Operation

Red: 140 Luens (14 hours)

Green: 190 Lumens (11 hours)

Blue: 45 Lumens (11 hours)

White: 200 Lumens (11 hours)

Strobe: 4000 Lumens

Digitally-regulated output: maintains constant brightness

Double circuit design for flexible power options and better reliability

Reverse polarity protection guards against improper battery installation

Over-heat protection to avoid high-temperature of the surface

Side switches for ON/OFF and output selection

Made of durable aircraft-grade aluminum

Premium Type III hard-anodized anti-abrasive finish

Toughened ultra-clear glass lens with anti-reflective coating

IPX-8 rated.  Waterproof to 6.6 feet for 30 minutes