Mister Twister® SwimSation: In mid-2014, Mister Twister® introduced the super-versatile Magnum SinSation. Bass, and bass fishermen like FLW Pro Clent Davis, loved it immediately. Clent used it during the 2014 FLW Tour season, and caught a ton of fish. But he had an idea. What if the SinSation had a swimming paddle-tail, like Mister Twister®'s classic, Sassy Shad®? Since Mister Twister understands the value of the input we receive from our Pro Staff members, we listened closely. After six months of testing and refining, we had a bait with the exact swimming action Clent was looking for–a hybrid, with all the great features of the SinSation, plus an irresistible swimming action. We call it the SwimSation.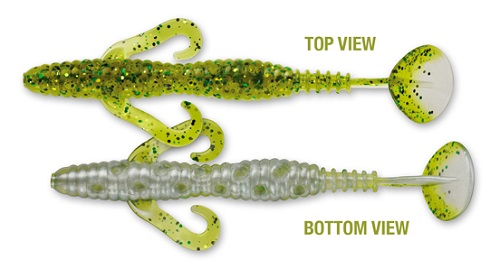 One of the obvious features that makes the 5" long SwimSation unique, is the front Curly Tail® arms that produce lift and glide along with pulsations and visual attraction. Next, the oversized paddle tail kicks wildly even at slow speeds. The entire body is ribbed and covered with a series of Poc'it® chambers to increase water disturbance and slow its swim. But now take a look at the overall shape of the SwimSation's body to reveal a feature that is not as immediately apparent, but just as important to its overall effectiveness. The body forms a subtle, hourglass shape. That slightly trimmed middle allows the paddle tail a much greater range of motion than other swim bait style lures. All of these features add up to create a bait unlike anything the fish have seen before. And, as we watch Clent Davis pile up paycheck after paycheck in the world's most competitive bass fishing tours, we know this is a bait fish love.
Available in 10 fish catching colors, specified by Clent Davis, himself, including nine awesome laminated color combinations.
Ask your favorite retailer for the NEW SwimSation! To see the entire lineup of Mister Twister® products, or receive a current Mister Twister® Tackle Catalog, visit our web site at www.mistertwister.com or call 800-344-6331. Mister Twister, PO Drawer 1152, Minden, LA 71058-1152.