America's fascination with plastic began when modern thermoplastic compounds were first developed for commercial use during the years leading up to WWII. Plano Molding Company was one of the first to begin injection molding these new "miracle materials" in 1938. Their complex mold designs and innovative spirit quickly showed the world what could be done with the new technology.
14 years later, Plano founder Pete Henning manufactured the very first molded plastic tackle box in 1952, revolutionizing – if not creating – the tackle storage industry.
But being first was just the beginning.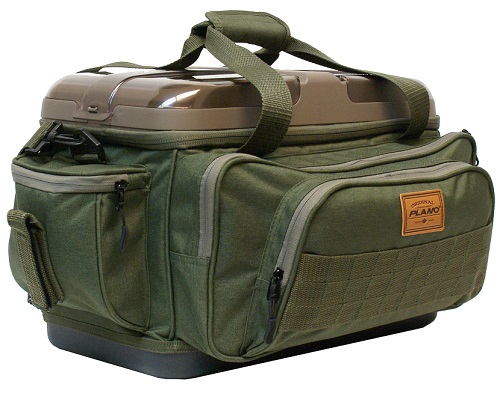 (video: https://www.youtube.com/watch?v=kMMoO3xokdo)
For the past six decades, Plano has focused on innovating and elevating tackle storage and management so anglers can find more success on the water and make the most out of every precious outing.
Today, Plano manufactures and sells over 200 distinct tackle storage products, each painstakingly designed to help anglers protect their passion with innovative, user-friendly function and pride-inspiring style. If you own a tackle box – and we know you do – there's an 80% chance it carries Plano's legendary triple P logo.
Beginning with the remarkable release of 30 all-new soft tackle bags in 2016, Plano will begin stamping a new trademark on its covetous collections – a trademark that showcases the company's pioneering past, dynamic present, and self-destined future of industry-leading innovation.
"This mark allows us to celebrate our pride in being the original manufacturers of molded tackle storage equipment while also highlighting the date in which we began the relentless pursuit of offering the best performing and most innovative tackle storage products on the market," says Plano Synergy Director of marketing, Ben Rand.
Plano A-Series Collection
Debuting at ICAST this week, Plano's adventurous and innovative A-Series consists of five premium and distinctive soft tackle bag designs, each combining high-quality materials with a clean and rugged all-new aesthetic.
The one-of-a-kind A-Series 3600 and 3700 size A-Series QuickTop Tackle Bags feature a unique hybrid soft/hard design, incorporating a range of pragmatic features that will help any angler maximize speed, efficiency and enjoyment on the water. The A-Series QuickTop looks and functions like no other tackle bag ever built, with a durable and sleek, molded ABS lid atop a richly-featured soft tackle bag.
In addition to the two QuickTop Tackle Bags, Plano's new A-Series includes a Tackle Bag, Tackle Backpack, and a Tackle Duffel, providing the discriminating angler with a premium and comprehensive system for tackle storage and transportation.
There are a handful of truly iconic and enduring fishing brands, but none have crossed and connected more generations of anglers the way Plano has while still remaining on the cutting edge of innovation. Plano is a true angler-centric company, championed from top to bottom by employees who share the passions of their customers. "There's no disconnect at Plano," continues Rand. "Celebrating who we are while striving to lead the way from an innovation standpoint is extremely important, and this new trademark is a visual reminder of these accomplishments and ideals."