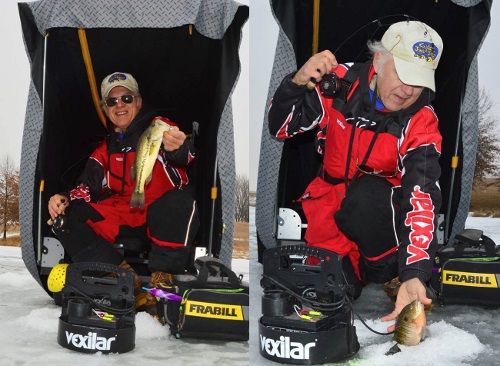 I started by experimenting with a Panfish Road Runner to see how it would do through the ice with a Power Crappie Nibble. The first time down had some fish interested, and the second about a 12 inch crappie hopped on it. Well that is where the interesting part started.
Once I got the crappie up I figured I would get a photo to post and use for the TTI-Blakemore page. I didn't anticipate dropping the fish, having it come unhooked and going nose down in the hole. Worse yet, I had two holes drilled close together, as I normal do using one for my Vexilar Inc FLX28 Pro-Ducer. My complete Frabill Straight-Line rig went right down the hole, all the way to the bottom of the lake.
Next was to see if my Custom Jigs & Spins Slender Spoon could catch more than fish. Second drop to the bottom and I hooked something heavy. Yep, it was the butt portion of my sunken Straight-Line outfit. So, the Slender Spoon saved the day, and then turned around and caught a bass afterwards.
All of the bluegill came on a Glow Rocker. I dropped it all the way to the bottom and worked it up about 1 to 2 feet. While on the upward bounce the fish would strike. I tipped it with either a Crappie Nibble, or one of the dropped or discarded wax worms that I found on the ice, both with a dose of Kick'n Bass Fish Attractants Crappie.
The outing was short, but there was a little action. Happy I got my rod/reel combo back. I even used it a little afterwards. If it had been as cold as last week it would have frozen solid. It is drying out tonight in front of a fan and near the baseboard heater.
Until next time, get out on the water and have a great day of fishing.