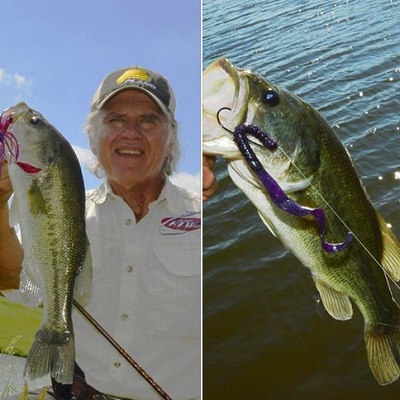 Fishing has been a bit tough. Don Banning reports that on the lake where he was fishing there were three anglers and three fish caught.
I had a little bit better luck, but it was still difficult catching the 10 bass that I managed to convince to strike.
Thanks to my Natural Forage Baits, Blitz Lures LLC, TTI XPoint Hooks, BFishn Tackle and Kick'n Bass Fish Attractants it all came together.
I used a NFB Swim Bait and Lil Killer on B-Fish-N H20 Precision jig heads, NFB Mad Craw on a Blitz Spyder Jig, and a NFB RT7 worm on a XPoint worm hook. All were mainly fished in shallow coves and within 3 feet of shore.
There was one surprise on my first cast with the Lil Killer. Something extremely large, catfish most likely, hit the lure and started running. I fought this fish for at least 15 to 20 minutes until my arm was tired and hurting. It got within 5 feet of me, and I still couldn't see it, but the boiling water, and feeling of turning was dead-on signs of a catfish. It didn't break off, instead it came in and tossed the lure back to me. At least I would have liked a look and photo, but it wasn't to be. Some excitement anyway.
Nothing prize winning on size for bass, but I did get a couple of photos.
Until next time, get out on the water and enjoy a great day of fishing.
#plano #blitzspyderjig #naturalforagebaitsswimbaitlilkillermadcrawrt7 #bfishnh20precisionjighead #ttixpointwormhook