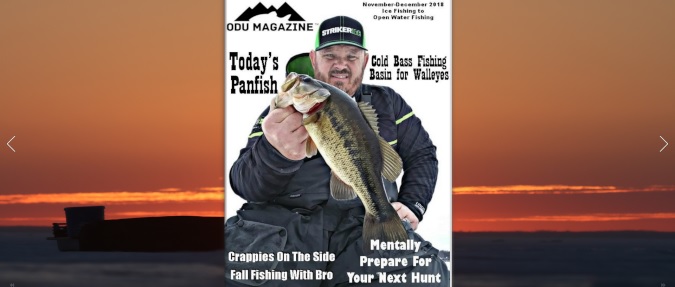 We made it by the skin of our frozen teeth. The next ODU Magazine is out. It is a November/December early winter fishing edition.
LINK TO THIS EDITION OF ODU MAGAZINE >>>  https://www.odumagazine.com/Magazines/ODUNovAndDec2018Mag/
This edition of ODU Magazine is packed once again, starting with the Ice Zone, followed by open-water fishing articles, as well as hunting. 26 in all plus many great videos. Some Of What Is Covered: Bass under the ice. Bass in open water. Fall walleye review from Brian Brosdahl. Early ice information and lures and locations. And Crappie to whitetails.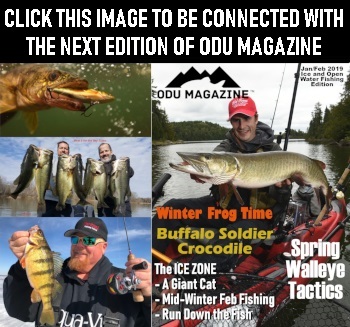 Keep an eye open for another edition of ODU Magazine at the end of this month! It already has been pieced partially together.
"Our outdoor community is similar and as ODU continues to grow, so does my family. Well too many to mention here, though I am sure you know who you are. So, to you all take good care, be safe, support our countries of the United States and Canada and remember you have family here in Maine." WS
ICE ZONE- Direct Link CLICK HERE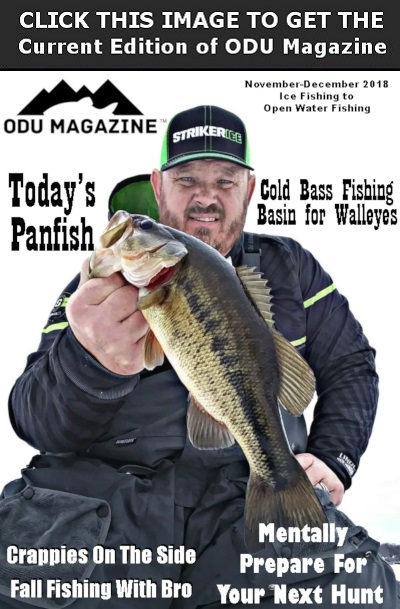 Ice Fish'n, Bass Fish'n, You Betcha!, Pg 7

Covering the Basin for Walleyes, Pg 10

The Future Of Ice Fishing, Pg 13

Cold Bass Fishing, Pg 15

Today's Panfish, Where To First-Ice, Pg 19

Plan Your Season, Pg 22

Tackling Tough Times, Pg 25

Locating Walleyes During Early Ice, Pg 30

Lake of the Woods – A Fishing Destination, Pg 34

Finesse Adjustments for Panfish, Pg 36
OPEN WATER FISHING ZONE- Direct Link CLICK HERE
Crappies on the Side, Pg 44

Power Trolling the Fin Spin Jig Heads, Pg 49

Open Water Fishing 2018, Pg 53

Big Fish Anyone, Pg 56

Where No Ned Has Gone Before, Pg 58

Things Change For Whatever Reason, Pg 62

Millennium Rod Transport Rack, Pg 64

Fall Fishing With Bro, Pg 65

Soft Plastics Enter the 21 Century, Pg 69

Wanted: Squirrel Tails, Pg 72
HUNTING ZONE- Direct Link CLICK HERE
A Flatlander in the North Country, Pg 79

The Benefits Of Conservation Hunting In Namibia, Pg 82

One Chance in a Million, Pg 90

A Real BB Pistol, Pg 93

Mentally Prepare For Your Next Hunt, Pg 95

A Grill For Outdoorsmen, Pg 100
MEET OUR ODU GUIDES, Pg 75
THE OUTDOOR EXCHANGE, Pg 103