As most of the country is still in the grips of a long cold winter, it's not uncommon to find yourself "climbing the walls", anticipating the day you can get back out on the water. But, maybe you can take advantage of this downtime by planning how to make the most of the coming fishing season. One enjoyable, but very productive activity is "map study". Sit yourself down in front of a cozy fire and take a good look at the topographical map for your favorite fishing hole. Check out a few of your favorite spots-areas that you've found to be consistent producers over the years. Take note of obvious factors like depth, bottom composition, cover, etc. Then, consider the subtle things like the relative position to shallow spawning bays, steep contours, or even boat traffic. Now, think about the habits of the species of fish you pursue. What types of cover or conditions will that fish typically seek? Take all this information into consideration, and try to find other parts of your body of water that may have similar combinations of elements to your proven spots. Look for places you've never thought to try before. Make notes, either right on your maps or in a notebook you can keep in your tackle box or boat. Now, when you're out on that first, beautiful warm day, you can look back on your notes and move efficiently around your lake, hitting only the highest percentage areas and possibly discovering new favorite spots. And, the worst case scenario is that you spent some time during the winter thinking about fishing, revisiting fond fishing memories and fighting off that cabin fever.
FREE Aglia Double Blade Spinner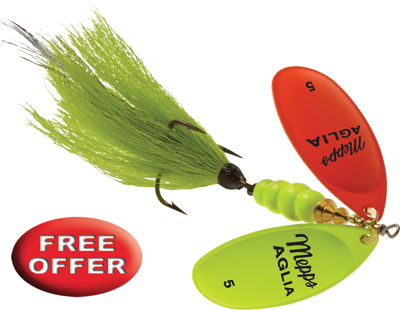 Order $45* worth of Mepps lures before February 28th and you'll receive a FREE Mepps Aglia Double Blade spinner. Not only is this Aglia Double Blade spinner FREE, but you get to choose the size and its color during checkout. Serious fishermen who spend a lot of time on the water will truly appreciate the Mepps Double Blade Aglia. It's perfect for smallmouth and largemouth bass, trophy northern pike and early-season musky. Why two blades? Dual blades create additional flash. This, in turn increases the intensity of the blade colors as they spin, whether the blades are the same color or contrasting colors. In addition, the sound and vibration they make is noticeably different than a spinner with a single blade. Two blades also product more loft so they are easier to fish over weeds and other structure.
» Get started on your order now!
*After all discounts are applied. Limit of one offer per order. Offer good through February 28, 2014

Mepps Discontinued Deals
Limited Quantities… Chances are you can still get that Mepps legacy lure you just can't find anywhere else. All lures are brand new and in their original packaging, but quantities are very limited. In fact, some of the discontinued products are single lures, so once that lure is sold there will be no more. All discontinued lures start with a 20% discount, and the discounts continue to build as you add lures to your cart.
Take a look at what's available…» Mepps Discontinued Deals

New Discounts for 2014

Save BIG on the EZ-Scaler

Mister Twister has extended its EZ-ScaleR offer of just $9.95 while supplies last (special price applied when added to cart).
Cleaning fish can be a chore, but Mister Twister's new EZ-ScaleR will clean your pile of fish in just a few minutes. The EZ-ScaleR's reciprocating heads move at 2,800 to 3,200 revolutions per minute lifting virtually one scale at a time. Without a doubt, this is the world's fastest fish scaler.

Kits for only $4.99 each!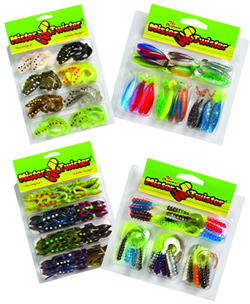 Here are four exciting Mister Twister kits featuring the VIE Shiner, Tri-Alive Curly Tail, and Mister Twister's spotted lures. All in proven colors. The VIE Shiner was designed by crappie guides in 3 states. It's 1-3/4″ length is perfect for both crappie and panfish. This all twin-tail Mister Twister finesse lure with a enhanced scale pattern is both tournament and guide tested. Mister Twister's 2″ Tri-Alive Curly Tails provide the contrast needed for sight stimulus and extreme tail action to enhance vibration. Spotted kits feature the the 2″, 3″ and 4″ spotted G-Grub, and the 6″ spotted Super Lizard.
» Check them all out here

Mister Twister Bargain Bin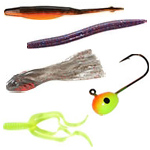 Don't miss our bargain bin of deeply discounted Mister Twister products! Keep an eye on our Bargain Bin to find great deals and products no longer available.
Please Note: Bargain Bin products are not eligible for any additional discounts or free shipping.

Find us on Facebook!
Find Mepps and Mister Twister on Facebook and join in on the discussion!