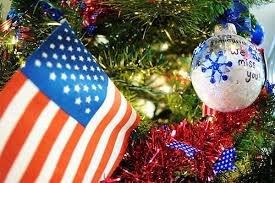 During this Christmas season take time from the hustle and bustle of the season to give a simple thank you to our military men and women who are away from home serving their country so you can gather around the Christmas tree with your family.  
Take time to say thank you to the veterans who served in World War II, Korea, Viet Nam, Afghanistan, Iraq and other places around the world. I am personally very thankful that our Viet Nam veterans are finally getting the thanks and respect they should have had a long time ago.  
Those of us who love the great outdoors might not be able to enjoy the hunting, fishing, boating, camping, hiking and other outdoor things we love to do if it were not for the sacrifices of all the men and women who served and are serving. It was their gift to us.
Let's also not forget our law enforcement, firemen and emergency medical teams for what they do for us each and every day. A simple hand shake, a thank you and a smile can mean the world to them anytime but especially during the Christmas season.
A Christmas thank you cost you nothing but time. The value to those that receive your thank you is priceless.
–
CHRISTMAS QUOTE: "He who has no Christmas in his heart will never find Christmas under a tree." – Charlotte Carpenter