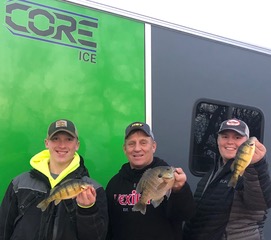 Recently I was fortunate to get in on a couple of really good ice bites.  One bite was on Big Stone Lake for perch and big bluegills.  The other was on Upper Red Lake for walleyes.  Different species and different baits, but both trips had one common theme: the need to get away from the crowds to find the most active fish.
The first trip, we fished with Big Stone guide Tanner Arndt and initially set up in an area that had produced well early the day before.  Tanner noted that the fishing had gotten tougher as the day went on and more people gathered.  Nevertheless, the bite had been so good the morning before that we felt the area merited another try.
With just a couple fish on the ice in the first hour, however, Tanner stated "time to move" and we were headed for a new spot.  We moved several hundred yards to the far end of what had been the good spot the day before, setting up in a location that had yet to be fished. 
The move quickly paid off as we had active perch come through within minutes.  The bite was good the rest of the day as roaming schools of perch would show up periodically, as well as a couple bonus schools of magnum bluegills that filtered through.  
That night, back at the local bait shop, we talked with other Big Stone anglers.   Those who stayed in the productive, but now more crowded, areas from the day before reported slower fishing.  Another group reported going "off by ourselves" and they easily had the best catch we saw!
A week later a fishing partner got some inside "intel" from anglers who were catching walleyes on Upper Red Lake who invited us to join them.  We drove by a couple ice villages on the way to this off-the-beaten-path spot and experienced some awesome fishing action.  This fishing was, in fact, one of the best ice bites I have experienced in quite some time!
That evening on the trip home, I heard from other anglers who reported a slower bite that day.   Both reporting anglers indicated that they were fishing in crowded areas.
The simple lesson from both those trips is the need to stay on the move and avoid the crowds when ice fishing.  Sometimes good spots will stay productive when the crowds show up, but more often than not, the action decreases as the number of people showing up increases!
Staying mobile and getting away from the crowds was important on both these trips and was fostered by the use of the CORE ICE fish house I have been fishing from recently.  These hard-sided houses are unique in that they are super lightweight so they can easily be moved from spot to spot by a 4-wheeler, yet they also offer the warmth and fishing comfort of a hard-sided house.
It is also worth noting that our productive fishing on Big Stone and Red Lake occurred in water depths of 12-feet and less.  Typically, these shallow spots are even more adversely affected by traffic and noise.  This winter has also seen limited snow fall, meaning less noise insulation on the ice and even spookier fish! 
Even with the spots and fish to ourselves, we quickly and quietly set up on the locations.  The K-Drill ice auger we relied on for both trips was perfect because it runs off a cordless drill for less noise and cuts holes very quickly.
Less noise and less people often lead to more fish on the ice, at least it did on these two trips.  If you want to up your odds for success this winter, keep in mind the suggestions offered here regarding being mobile, being quiet, and avoiding crowds and you'll probably see your catches go up! 
As always, good luck on the ice and remember to include a youngster in your next outdoors adventure.
By Mike Frisch – Mike Frisch is the host of Fishing the Midwest TV.  Visit fishingthemidwest.com or follow Fishing the Midwest on FACEBOOK for more "fishy" information!
Related articles: