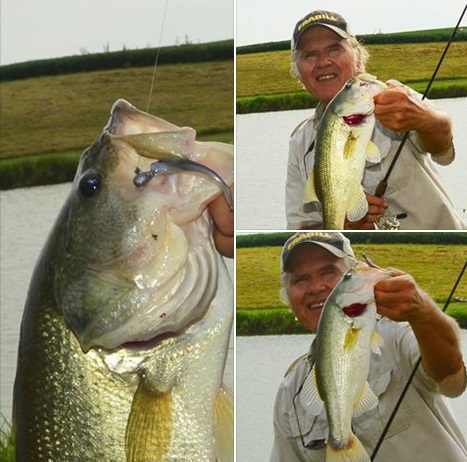 Attorney and bank took up most of my day, so the fishing was late and short. However, it was great. "King for the Day" honors went to Berkley's 2″ Power Minnow, rigged on a BFishn Tackle H20 Precision jig head, and used with my "finger jigging" technique.
The first fish came on a Natural Forage Baits green shad Swim Bait, which I figured might happen. Then I started doing some experimenting and caught more fish on a Blitz Lures LLC white Finesse Jig with a shortened NFB Swim Bait. I also caught one crappie on a Mini Trap in the chartreuse with black back.
A lot of hit, plus largest fish of the day was on a black/blue Blitz Lures LLC 1/4-ounce Spyder Jig with a matching NFB Mad Craw.
However, the fish were still not consistent, so I decided to pull out my old standby 2″ Power Minnow and finger jig it. Bingo! First cast, and 3 more to follow. Then a lot of strikes and more fish. Almost every cast near submerged weeds with the little minnow would produce a strike or fish.
One of the fish has very small fry coming out of its mouth when it was caught, which confirmed why the smaller Power Minnow was working.
It was a lot of fun catching the fish on the 7′ Agility ultra light rod, which is my top selection to give the minnow the perfect finger jigging action. By the way, it took a fairly stiff finger, with a medium speed retrieve, and ticking weeds to produce the right conditions to have the best results.
Until next time, get out on the water, and enjoy a great day of fishing.