This tale starts at all places but a cookout at my daughter's home in Newport, New Hampshire.  My son-in law had just graduated with a degree is Respiratory Therapy and this was a gathering to celebrate his achievement.  As my life seems to revolve around hunting, fishing and writing I figured that this would be a good break.  Alas, such was not the case.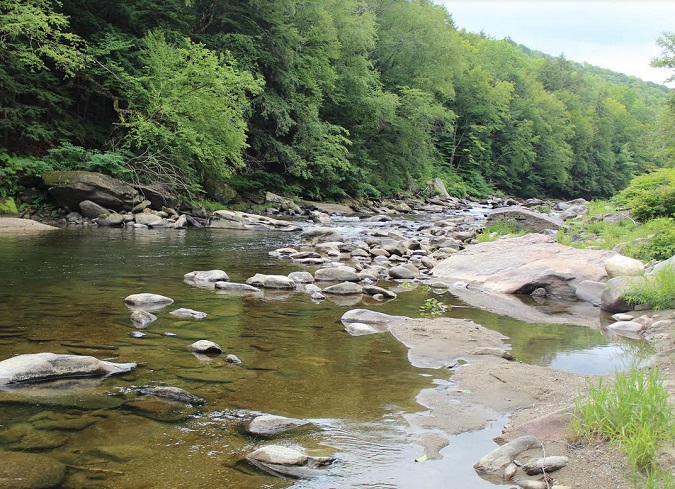 As I mingled with the other guests I noticed a woman wearing a shirt that said "Trout River Brewing" on it.  You know I had to ask about it as it covered two things I hold near and dear to my heart; beer and trout fishing.  Come to find out, her husband's son is a co-owner of this brewery in Springfield, Vermont.  Better yet, he just so happened to have a few of their beers with him and he offered me one; a hoppy ale they call "Trout of Solace".  It was good and I decided to find out more.  After all, how great it is to have a good beer with a trout on a can.  When I got home I shot out an email to Kelen Beardsley, President of Trout River Brewery and a time and date was set for a visit. 
    As Springfield, Vermont is about to hours away, I decided to fish the Black River while I was there.  The night before I made ready my gear.  I packed two spinning rods, one rigged for using spinners and spoons and one for using bait.  I also carried a #5 fly rod and a box of assorted flies.  Of course I had my "official" trout tacklebox any my net.  With everything packed and ready to go, I hit the rack as it was going to be an early morning.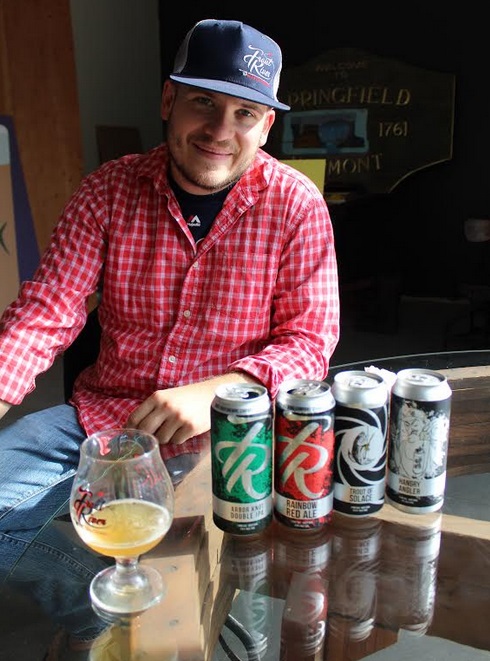 It was 5:00am when I rolled out of the driveway, starting my trip to Vermont.  My first stop happened as I crossed the bridge from Charlestown, New Hampshire into Vermont.  Vermont Fish and Wildlife have a boat launch and shoreline access point to the Connecticut River.  Putting a spoon on one of the rods I made casts with the hope of a pike or a big bass to attack.  After a half an hour with no hits, I packed up and continued my journey.
    I arrived at Trout River Brewing at about 8:00am where I was greeted by Kelen.  Without hesitation he took me through the brewery.  What I saw impressed me, especially for a brewery that has been up and running for a little more than a year.  With beer names like Hangry Angler, Rainbow Red, Arbor Knot Double IPA and Trout of Solace you really can't go wrong.  Before I left I picked up a couple four-packs of their beer and a t-shirt.  I can't wait to pop one open when I get home, but now it was time to go fishing.
    Though the Black River runs through the old mill town of Springfield, for really good fishing and access to the river you need to go up river along Rte. 131 towards Cavendish, Vermont.  Rte. 131 follows the river and as you get out of Springfield there are numerous places to pull off safely thanks to the Vermont DOT and the Fish and Wildlife Department.  Parts of this river do have special exceptions, but unlike many other places in New England, Vermont clearly marks them.
    The Black River is really a beautiful body of water.  I pulled over, grabbed my gear and headed down to the river.  While the state does provide a safe parking area along Rte. 131, you do need to do a little work to get to the river, mostly downhill.  From higher ground I spotted a sandbar and a deep pool so that is where I headed.  The water was low and fairly warm so I figured the trout would be in that deep pool.
    Once in my spot I started casting a Thomas Colorado spoon in gold/nichol coloration.  On my fourth cast I got a hit, but no fish.  Thinking positive I made a few more casts, but nothing happened.  Figuring I needed to slow down everything I switched to my other rod which I baited with a nice, fat nightcrawler.  As the pool was fairly deep I used two split-shot as opposed to my normal one split-shot, in order to get my bait deep.  Casting up stream I allowed the current to take my offering to the trout.  On my second cast I was rewarded with a fish on.
    The fish was a nice rainbow trout and it used every natural obstacle to its full advantage, even wrapping the line around a rock, which forced me to go in after it.  When it was all said and done the trout popped the hook right at the net.  No one was there to witness it or catch it on film, but it is one that I will always remember.  After that, no matter what I did, I couldn't get another hit.  It was now about noon and I needed to get back home.  I packed up my gear, loaded the truck and hit the road, vowing to come back.
Trout River Brewing www.troutriverbrewing.com
By Dana Benner
Save