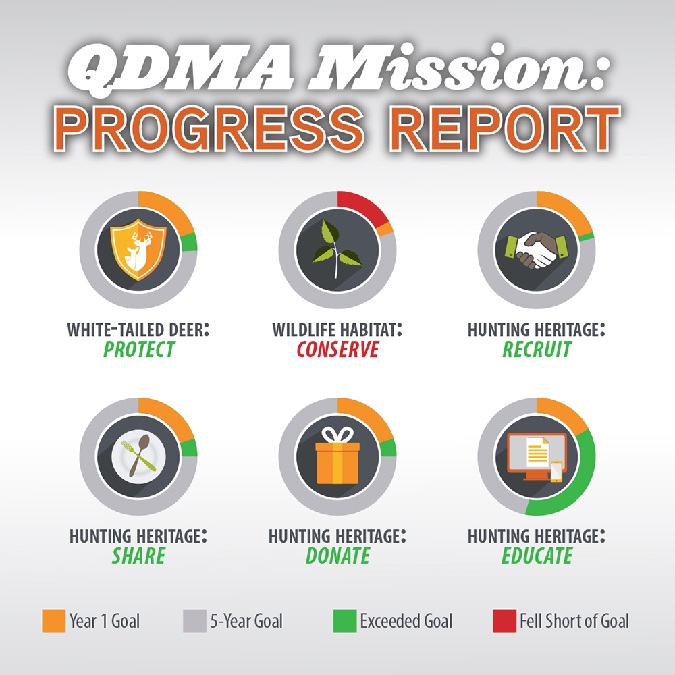 One year into QDMA's current five-year mission goals, a progress report shows the organization is tracking ahead of pace in five of seven major areas focused on the QDMA mission to ensure the future of white-tailed deer, wildlife habitat and our hunting heritage. 
"Of the seven goals, we have data for six of them at the end of the first year, and I'm very pleased that in five of those areas we met or exceeded our goal," said QDMA CEO Brian Murphy, who recently provided attendees of the QDMA National Convention with an update on progress based on National Office activities, Branch accomplishments, and a new survey of QDMA members. 
The following is an overview of progress through the first year in each of seven major areas.
White-tailed Deer: Protect
Year 1 Goal: Contribute $200,000 to research, management and technical assistance aimed at practical solutions to threats and challenges like chronic wasting disease (CWD), predators and competitors of whitetails.
2018 Update: Ahead of Pace. The QDMA National Office contributed $285,000 in these areas.
Wildlife Habitat: Conserve
Year 1 Goal: QDM Cooperatives not only improve deer herd quality and hunting experiences, they also connect critical landscapes and provide broad conservation and ecological benefits. In 2017, QDMA members indicated they were involved in QDM Cooperatives totaling an estimated 29 million acres, and the goal was to increase this figure by 1.2 million to 30.2 million acres.
2018 Update: Behind Schedule. A new survey of QDMA members indicates Cooperative acreage declined by an estimated 900,000 to 28.1 million acres.
Hunting Heritage: Access
Year 1 Goal: Hunting access is more than just a place to hunt. It is also influenced by the quality of the habitat and game populations available. Thus, QDMA aimed to double the number of QDMA Branch projects that increase access or improve habitat on public lands.
2018 Update: To be determined following the completion of a QDMA Branch survey.
Hunting Heritage: Recruit 
Year 1 Goal: Mentor 200,000 new or beginning hunters through QDMA's Share Your Hunt™ program, Field to Fork program, individual mentoring and partnership with Scholastic 3D Archery. With deer hunters being the largest component of the hunter population, QDMA and its members have the potential to play a significant role in hunter recruitment and retention.
2018 Update: Ahead of Pace. QDMA members and National Office programs mentored 200,376 hunters in the 2017-18 season.
Hunting Heritage: Share
Year 1 Goal: Share 4 million meals with friends, family and others not residing in the donor's household. Research has revealed that the best way for hunters to connect with non-hunters is through the sharing of wild game.
2018 Update: Ahead of Pace. QDMA members shared 5.23 million meals or 1.31 million pounds of venison.
Hunting Heritage: Donate 
Year 1 Goal: With one in seven U.S. households currently food insecure, QDMA aimed to donate 7 million meals worth of bulk venison, or the equivalent processing costs, to charities or others not residing in the donor's household. 
2018 Update: Ahead of Pace. QDMA members donated 8.7 million meals, or 2.17 million pounds of venison.
Hunting Heritage: Educate 
Year 1 Goal: At the outset of this effort, QDMA's educational resources touched approximately 3.3 million people annually, and the year-one aim was to increase QDMA's educational reach by 300,000 hunters.
2018 Update: Ahead of Pace. Reach increased by 833,000 to 4.3 million.
"To all those QDMA members and volunteers who have a hand in this effort, keep up the great work," said Murphy. "Together, we are achieving great things for the future of whitetails and hunting."
These goals were designed to extend QDMA's achievements in protecting whitetails and improving habitat while intensifying focus on hunting heritage issues by challenging the organization, its members and volunteers to increase those achievements. The QDMA staff and Board are pleased to announce the early progress and will continue to keep members informed on ways that each can contribute to attaining these important goals. 
For more information about QDMA's five-year mission goals, click here.