Anglers for Conservation is proud to announce the third year of Advanced Teen Anglers Camp (ATAC). ATAC is a two-day camp geared towards teens 12-17. This camp will help fine tune the skills of any intermediate or beginner angler and also serve as a building block on what it means to be a conservationist. The anglers will be casting fly rods, spinning rods and baitcasters along with learning the retrieval techniques for each of these categories. Eight different stations over two days will cover fish handling, safety, fish species, conservation, boating etiquette, kayaking, fly tying and much more all taught by experience local anglers. Lunch will be provided and a certificate of completion and goodie bag will be given to all who attend.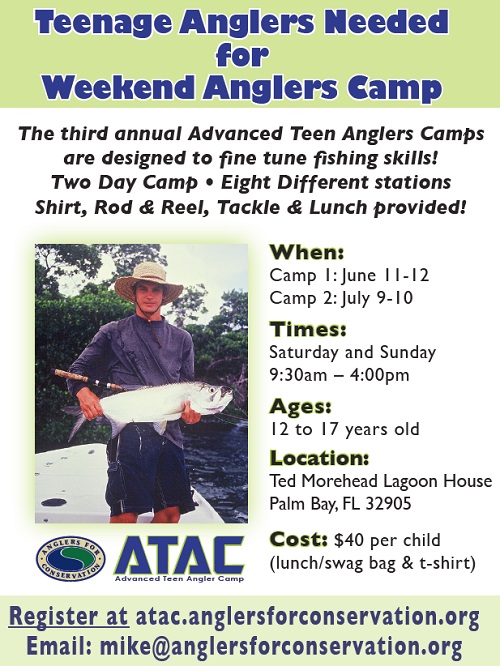 ATAC #1 June 11th & 12th
ATAC #2 July 9th & 10th
Located at the Marine Resources Council-Lagoon House in Palm Bay, Fl.
Register today at http://atac.anglersforconservation.org/
—
Mike Conneen
Executive Director
Anglers For Conservation
P.O. Box 372423, Satellite Beach, FL 32937