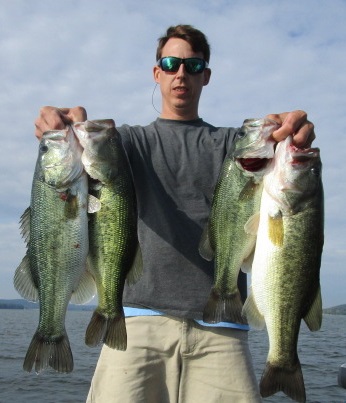 When the water warms up and the bass move deep it's time to get to my favorite deep presentations. I believe just a little confidence in some of my go-to baits and you will be successful fishing those deep spots. First and foremost you have to locate the deep fish; your Lowrance electronics is paramount and when you do find those deep fish my deep baits will get you that big sack.
There is no one that knows me well that wouldn't tell you the first thing I do is run a deep diving SPRO Little John 70 crank bait over those already located deep fish; there is nothing that can fire up a school of fish better than a deep crank bait. Bass when schooled up over deep ledges will compete and make it real possible to catch two at a time when they do. Next for me is a big jigging spoon a big spoon fluttering down a ledge is deadly. The flash alone attracts many types of fish so be ready you could just as well hook up on a big cat fish, drum or spotted bass as a big largemouth; so be prepared if that fish doesn't immediately run to the top it's probably another type of fish and will give you a heck of a fight.
If you have been on my boat in the last few years you will always see a ½ to ¾ oz. football jig tied on, the deeper I fish the heavier the football jig; Tight-Line jigs football jig is as good as it gets, it's ready to fish out of the package and it's got big hooks that will bring those big-ones to the boat. It represents a craw fish look very well and fishing it on the bottom with that dragging presentation is just a killer over deep shell beds. One bait I have really focused on over the past couple of years is Picasso's heavy 1 oz. shaky head, presented with a floating long worm in deep water makes that bait a monster fish bait, The shaky head is flat on one side and the bait stands up-right on the bottom allowing the floating worm to hover in an up-right position on the bottom enticing big fish.
Lastly take a Picasso heavy swim bait head rig your favorite swim bait on it and slow roll it over those deep fish. Deep baits, big fish they add up.
Fish Lake Guntersville Guide Service
www.fishlakeguntersvilleguideservice.com
www.facebook.com/FishGuntersville
Email: bassguide@comcast.net
Call: 256 759 2270
Capt. Mike Gerry