Over the years we have found what fishermen want is to catch more fish. So, when developing new products we start with the idea that it must catch fish well—hopefully, better than what's currently in use. Plus, it needs to be a good value. Will a fisherman be happy enough with his results vs. the cost to come back and buy another one? Even more, will he tell friends about it? Those things are very important to us. We think the new Mepps Trolling Rig answers all those questions with a resounding, "Yes!" It's been tested and tested and then tested some more. It has been catching more fish. It's a great value because it works and it's durable. Fishermen are already coming back to buy more and telling us and friends how effective it is. One final question is whether the Mepps Trolling Rig has the "Dream Factor". What's the "Dream Factor"? A guy in the fishing rod industry once told us his job was easy because he could put a rod in a fisherman's hand and make him dream about the success he'd have with it. It may be a challenge to get that "Dream Factor" from looking at a lure, but once they put it on the end of their line, we believe dreams will come true.
2 Free Comet TRU-V Spinners!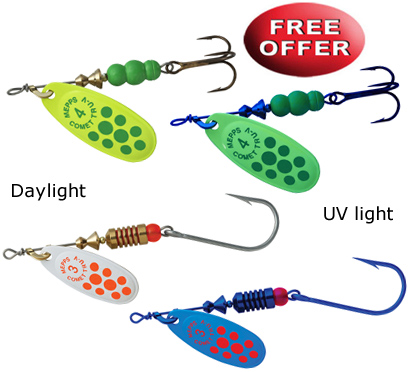 Order $55* worth of Mepps lures before July 31st and you'll receive 2 FREE Mepps Comet TRU-V spinners of your choice. Not only are these two lures FREE, but you get to choose their size, color and hook type when you checkout.
Our Comet TRU-V spinners are UV-enhanced beyond our traditional finishes. Every Mepps Comet TRU-V features a blade and body painted with colors that are proven fish catchers. Each blade also features a dot pattern that provides maximum contrast at any depth and under all fishing conditions. We call it TRU-V. You may not be able to see it, but the fish sure can.
» Get started on your order now!
*After all discounts are applied. Limit of one per order.
FREE Comet TRU-V Spinner offer good through July 31, 2014

Mepps Discontinued Deals
Limited Quantities… Chances are you can still get that Mepps legacy lure you just can't find anywhere else. All lures are brand new and in their original packaging, but quantities are very limited. In fact, some of the discontinued products are single lures, so once that lure is sold there will be no more. All discontinued lures start with a 20% discount, and the discounts continue to build as you add lures to your cart.
Take a look at what's available…
4th of July Blowout!

Save BIG on the EZ-Scaler

Mister Twister has extended its EZ-ScaleR offer of just $9.95 while supplies last (special price applied when added to cart).
Cleaning fish can be a chore, but Mister Twister's new EZ-ScaleR will clean your pile of fish in just a few minutes. The EZ-ScaleR's reciprocating heads move at 2,800 to 3,200 revolutions per minute lifting virtually one scale at a time. Without a doubt, this is the world's fastest fish scaler.

Mister Twister Bargain Bin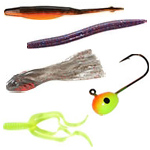 Don't miss our bargain bin of deeply discounted Mister Twister products! Keep an eye on our Bargain Bin to find great deals and products no longer available.
Please Note: Bargain Bin products are not eligible for any additional discounts or free shipping.
—–
Join ODU Magazine on Facebook here at this LINK…..
Join ODU Magazine on our Twitter fishing site here at this LINK…..
Join ODU Magazine on our Twitter hunting site here at this LINK…..
.