For many people, the New Year starts with a new list of resolutions. "I'd like to lose weight." "I'm going to make more money." "I'm really going to try to fish more." Their hearts are in the right place, but statistically, these resolutions rarely amount to any meaningful change. Why is that? These resolutions sound good. Why don't we follow through with them?
Resolutions vs. Goals
There is a big difference between a resolution made at 12:25 am on January 1st, while finishing a glass of champagne, and a well-planned, well-written goal. Goals are definitive. Goals are measurable. Real goals are exciting. I won't go into the details in this article, because there are already thousands of resources describing in detail, how to make lasting, meaningful goals. Just do a simple Google search and you'll find plenty of information on the process. The point is, make sure you do the research and make some goals for yourself. In fact, make it your first goal. "Before the end of this week, I will research the best way to create meaningful goals, and I will set, at least, three goals that I will accomplish in 2015."
Fishing Goals
If you're reading this newsletter, it's probably safe to assume you love fishing, and want to get the most out of your fishing experience. Once you've learned how to set proper goals, consider setting some of your goals around fishing. They don't have to be complicated in order to be meaningful to you. Here are a couple suggestions, just to get you started. Obviously, think of where you are as a fisherman-what level you're currently at, things you've already accomplished, what level you'd like to reach, etc. Remember, these are just basic ideas. Please use the techniques you've just learned to plan and write them as real goals.
– Catch a species you've never caught before.

– Join a fishing club.

– Compete in your first tournament, or if you already fish tournaments, set your goal to get your first win or to become angler of the year.

– Earn a Mepps Trophy Fish Award. If you've already done that, shoot for Master Angler, or even, Expert Angler. The details are available here.
– Learn a new technique, like Shaky Head Worm fishing. Mister Twister offers the Poc'it Shake'R worm just made for this deadly, but often underutilized technique.

– Pick a conservation effort and make a change that affects the whole fishing community. Consider contacting your local Department of Natural Resources for ideas.

– Set a state record, or a line-class record. Research those records at the Freshwater Fishing Hall of Fame and go for it!
These are just a few ideas to get you inspired. Take the time to learn about real goal setting, think about who you are and who you want to be and make 2015 your best year yet!
Get a FREE Mepps
Thunder Bug & Xtra Deep Spinner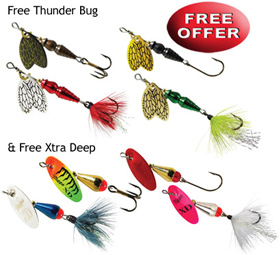 It's easy to earn a FREE Mepps Thunder Bug and a FREE Xtra Deep spinner. Order $55* worth of Mepps lures before January 31st and you'll be able to select a FREE Thunder Bug & Xtra Deep spinner. Not only are these spinners FREE, but you get to choose the size, color and hook type when you checkout.
*After all discounts are applied. Limit of one per order. FREE Thunder Bug & Xtra Deep Spinner offer good through January 31, 2015

Mepps Discontinued Deals
Limited Quantities… Chances are you can still get that Mepps legacy lure you just can't find anywhere else. All lures are brand new and in their original packaging, but quantities are very limited. In fact, some of the discontinued products are single lures, so once that lure is sold there will be no more. All discontinued lures start with a 20% discount, and the discounts continue to build as you add lures to your cart.
Take a look at what's available…» Mepps Discontinued Deals
50% off Classic Mister Twister Gear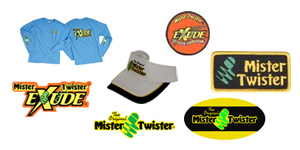 Classic Mister Twister Gear is 50% off while supplies last!
hats • shirts • patches • stickers

Serious Savings!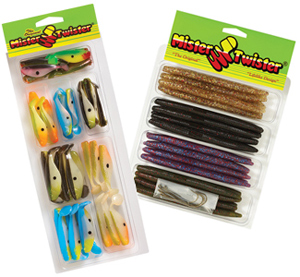 50% Off Savings!
For a limited time we're offering the following kits at 50% off retail value! Hurry, offer valid while overrun quantities last.
» Comida Kit
     – Now only $8.22!
» Nature Series Spotted Sassy Shad®
    – Now only $7.79!

20% Off Cold Water Kits

Save BIG on the EZ-Scaler

Mister Twister has extended its EZ-ScaleR offer of just $9.95 while supplies last (special price applied when added to cart).
Cleaning fish can be a chore, but Mister Twister's new EZ-ScaleR will clean your pile of fish in just a few minutes. The EZ-ScaleR's reciprocating heads move at 2,800 to 3,200 revolutions per minute lifting virtually one scale at a time. Without a doubt, this is the world's fastest fish scaler.

Mister Twister Bargain Bin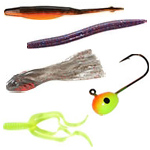 Don't miss our bargain bin of deeply discounted Mister Twister products! Keep an eye on our Bargain Bin to find great deals and products no longer available.
Please Note: Bargain Bin products are not eligible for any additional discounts or free shipping.