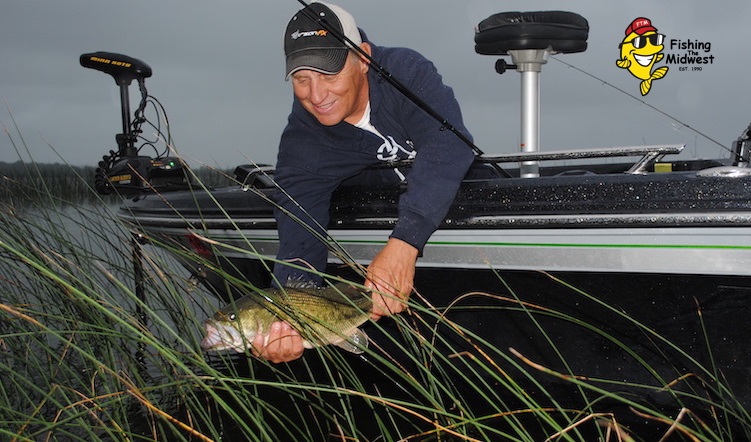 Fishing seasons are in full swing all across the Midwest and that means anglers are chasing walleyes and panfish in lots of waters. Now, however, can be a great time for largemouth bass fishing too as these fish are often shallow and aggressive now as well. In this REEL-TIMES we explore a simple shallow bass fishing technique that can yield lots of fish-fighting fun! And, as is the norm during open-water, we have several fishing reports from top guides and top fishing destinations across the Midwest.
Please note, we've recently updated the format of this newsletter for better mobile viewing, because we know lots of you view it on your mobile devices. Also, please share this publication with your fishing friends and invite them to subscribe as well. They can subscribe in the upper left-hand corner of this publication when viewed in the browser. Thanks to you for subscribing!
Lots to cover, so let's get going!
On The Move For Bass!  Shallow water bassin' of the simple, yet very successful variety!
Fishing the Midwest TV host Mike Frisch loves heading to the shallows during the early season and targeting the numerous largemouth bass often found there now. Recently, Mike wrote a fishing story about throwing swim jigs to catch shallow spring bass.  Here are excerpts from that story for anglers wanting some tips on how to get involved in this exciting fishing action!
ON AREAS TO TARGET:  
I like throwing swim jigs on shallow flats featuring some form(s) of cover.  Reed banks are classic early season targets prime for swim jig fishing as a swim jig can often be worked along the edges and even through the reeds, particularly sparser reed patches. 
Other forms of shallow cover like submergent weeds, docks, and . . .
A SIMPLE, BUT VERY EFFECTIVE TIP FOR FISHING REEDS:
Casting and working with the reeds, rather than across them, is a helpful hint for effectively working through reeds.
My swim jig arsenal is pretty simple, but one that has been very effective for me.  I use a 5/16-ounce Tour Grade Swim Jig in either a bluegill or sexy shad color pattern and . . .
ON TIPPING THE JIG: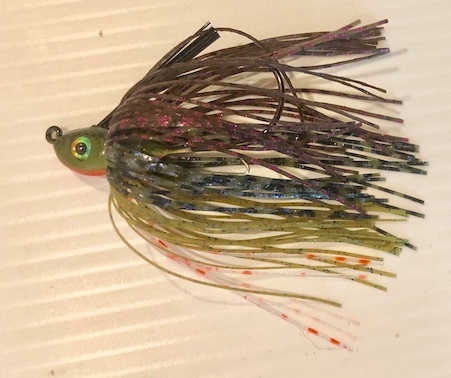 When I first started fishing swim jigs, a 4" grub was usually my trailer choice.  Recently, I have increased my fishing successes by tipping with other baits, particularly the Rage Menace and Rage Craw. Experimenting with various trailers and letting the bass tell you what they prefer on a given day is sound advice. 
BUMP THE STUMP, CATCH THE BASS:
. . . particularly by an adept caster who exhibits some casting accuracy.  Occasionally "bumping the stump," that is careening a bait off a tree limb, dock post, or reed, is a good way to impart an erratic action to the jig that often triggers a bite.
TO READ "THE REST OF THE STORY" including Mike's thoughts on rod/reel choices, line selection, and more, simply HOVER/CLICK on the cover image at the top to be directed to the full copy.
REEL Good Fishing Reports From Some of the Midwest's Best Guides and Top Fishing Destinations!
BIG STONE LAKE, Ortonville (MN)  — Tanner Arndt, guide at Artie's Bait & Tackle, (320) 305-3754                                                                                                 
The walleye bite on Big Stone is pretty good right now, with the peak times being the low light periods in the morning and evening.  Presentation of choice has been fan-casting jigs in conjunction with fishing a bobber and leech.  Some walleyes have also come trolling edges leading to the lake basin during the day.  
Big Stone's largemouth bass and white bass are also biting now too.  (That's Joe Arndt, Tanner Arndt's younger brother, with a fat Big Stone "largie" that ate a Tour Grade Football Jig tipped with a Rage Menace a couple days ago!)
Some warm weather will make for some fun days spent on the water of Big Stone Lake now!   Stop in to Artie's Bait and Tackle for the up-to-the minute fishing report!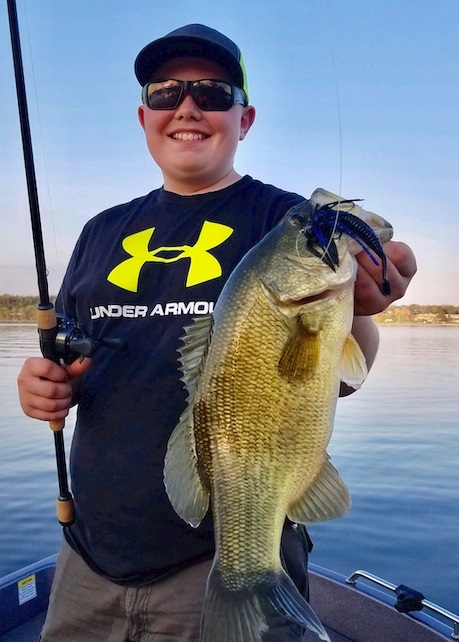 CLEAR LAKE (IA)  — Kevan Paul, guide at Clear Lake Bait & Tackle, (641) 231-8028
Crappies are good in 3- to 5-feet of water.  Walleyes are eating crank baits and spinners in the lake's basin.  Slip-bobbers with leeches are taking walleyes in 8- to 9-feet of water as well.  Yellow bass are abundant near rocks and are willing biters too.  
The guys at Clear Lake Bait and Tackle have the bait and information you need to to be successful on Clear Lake! 
CHAMBERLAIN (SD)  Lake Francis Case & Lake Sharpe — Jim Klages, guide from Dakota Prairie Guide Service, (605) 680-1910 http://www.dakotaprairieguide.com
Despite the wet, cold and windy weather the last week or so, the walleye bite remains good on the Missouri River.  Lake Francis Case and Lake Sharpe have been producing nice 15- to 23-inch fish in a variety of locations from Pierre all the way down past Platte Creek.  All methods are still producing fish, with bottom bouncers with Lindy snells or small spinners with minnows being the most consistent method.  The walleyes are spread out from shallow water to 32-feet.  
Smallmouth bass and white bass have shut down with the weather.  The catfish bite should be very good with all the water flowing in the creeks coming into the Missouri River.  Warm and stable weather should really get an intense bite going for all species.
More Fishing The Midwest with Jensen & Frisch – https://www.odumagazine.com/topics/headlines/featured-outdoor-writers/fishing-the-midwest-with-bob-jensen-mike-frisch/