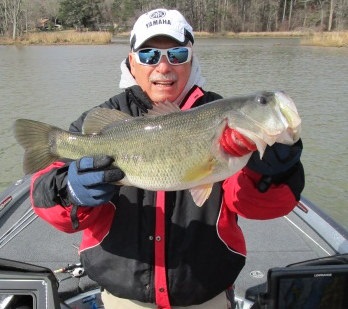 As you start your day searching for pre-spawn bass it's important to remember that there are visual keys to look for; let your eyes be your partner and don't ignore what your seeing as you survey the lake. Put yourself in the water and ask your self what and where would you be if you were swimming around looking for places to hide, oxygen to breath and food to eat. Doing that, acting as if you are there puts you in the correct locations.
We all know oxygen is created from water movement, making ideal locations anywhere you see water movement combine that with the fact that we all know bass are moving shallow for the spawn eliminates a lot of water. This thought high-lights areas of current like water run off around culverts from rain, bridges and springs making these classic locations for bass to hang and bait to move to during the pre-spawn. These areas funnel water movement and create hiding locations for bait and hence bass during this time-period.
All lakes create water movement around the main lake points commonly referred to as "Primary Points." These main lake areas have shallow water near the banks but quickly drop into deeper water and give safe heaven to bass that might be still skittish as they migrate up to the spawn. The food source around these primary points are plentiful and bass know that they hold bait, crawfish and more of their favorite feeding choices. The truth is primary points are good locations not only in pre-spawn but most of the year on any lake.
As the weather changes daily during the spring 'Secondary Points" become prime targets for bass to hold on as the weather changes. Secondary points being the small points within the creeks are stopping points for bass that are affected by the many changes and fronts that come through. You see cold fronts lower the water temperature quickly in the shallow and secondary points having some deeper water does not change as quickly and become stopping points for bass that are looking for warmer water. Pre-Spawn locations are just areas that make sense not only to the fish but to you also!
Fish Lake Guntersville Guide Service
www.fishlakeguntersvilleguideservice.com
www.facebook.com/FishGuntersville
Email: bassguide@comcast.net
Call: 256 759 2270
Capt. Mike Gerry