Labor Day officially marks the end of summer. There may still be some warm, "summer-like' days to come, but things are changing. Shorter days. Cooler evenings. Time for hunting and football. But for savvy anglers, this is time for some real fishing. Fall is traditionally when some of the biggest fish of the year are caught as they gorge themselves in preparation for winter. And maybe best of all, the jet skis have been put away and the launch ramps are empty. Some days, the water is entirely yours.
TROUT
Biologists studying trout physiology and behavior observe that trout do not necessarily feed as heavily or as often in the fall as they do in the spring and summer, but there are still plenty of opportunities and you'll generally have the stream all to yourself. As long as summer-like temperatures hold, trout will feed best from dawn till mid-morning, and in the evening. Once the air temperature stays below 50 degrees during the day, the best fishing will be from noon untill late afternoon. Try the tail end of deeper pools with a Mepps® #1 Aglia Streamer or an Mepps® Ultra Lite Black Fury.
BASS
As water temps cool, bass go on a feeding spree. Early in the fall transition, you'll find them on shallow flats relating to obvious cover like wood. Later in the year, as the shallows cool and plant growth starts to die off, you'll find bass concentrated around the last green, healthy weeds on the deep edge. Either way, a vertical, precise presentation will pay off. Try a Texas-rigged Mister Twister® Flip'n OUT or SinSation or rig a Poc'it Craw as a trailer on your favorite 1/2 ounce jig.
MUSKY
As lakes begin to cool, muskies move to the remaining green weeds where large-profile bucktails are a perfect fit. Indiana and Colorado blades, especially double blades, provide lift to work efficiently over cover and the large profile big muskies are looking for. Both the Mepps® Double Blade Musky Marabou and H210 are perfect for fishing these conditions.
Get a FREE Mepps Dorsal Fin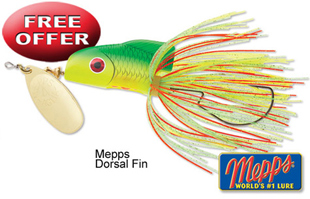 It's easy to earn a FREE Mepps Dorsal Fin spinner. Order $50* worth of Mepps lures before September 30th and you'll be able to select a FREE Dorsal Fin spinner during checkout. Not only is this lure FREE, but you get to choose the color too.
*After all discounts are applied. Limit of one per order. FREE Dorsal Fin spinner offer good through September 30, 2014

Mepps Discontinued Deals
Limited Quantities… Chances are you can still get that Mepps legacy lure you just can't find anywhere else. All lures are brand new and in their original packaging, but quantities are very limited. In fact, some of the discontinued products are single lures, so once that lure is sold there will be no more. All discontinued lures start with a 20% discount, and the discounts continue to build as you add lures to your cart.
Take a look at what's available…
Hot Summer Savings!

Save BIG on the EZ-Scaler

Mister Twister has extended its EZ-ScaleR offer of just $9.95 while supplies last (special price applied when added to cart).
Cleaning fish can be a chore, but Mister Twister's new EZ-ScaleR will clean your pile of fish in just a few minutes. The EZ-ScaleR's reciprocating heads move at 2,800 to 3,200 revolutions per minute lifting virtually one scale at a time. Without a doubt, this is the world's fastest fish scaler.

Mister Twister Bargain Bin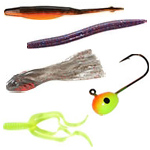 Don't miss our bargain bin of deeply discounted Mister Twister products! Keep an eye on our Bargain Bin to find great deals and products no longer available.
Please Note: Bargain Bin products are not eligible for any additional discounts or free shipping.