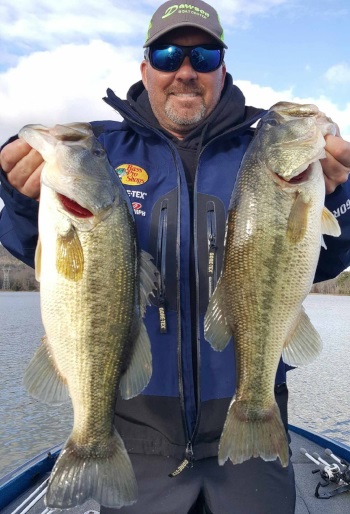 With the winter bite upon us and the resurgence of the A-Rig over the last month I thought it would be a good time to share some of the deepest secrets of making this bait productive. Let me first say hit the weights, regain some strength in your hands and get some fishing time under your belt before you fish one of these all day long. It is no secret it is a bait that will wear you out if you're not prepared and this my friends are the first lesson in fishing it; know what you're getting into physically and be prepared for it.
Next is how to rig it; when this bait was first introduced it was a bait for deep water, it had a heavy head, thick wire and most of us fished it with ¼ oz. heads on each of the 5 wires making it strictly a deep-water bait. Add five 4 to 5-inch swim baits and you had your hands full to pull it along the bottom. Now it lightened up, they have added flash to the wires with small willow leaf blades and it can be rigged and used in 4 to 7 ft. of water. Making it more versatile than ever, the key is recognizing that it is a cluster bait, meant to attract groups of fish and catch more than one at a time. The key is understanding that you can fish this bait at different depths and this is key to catching fish on it. It is a cluster bait that mimics groups of bait fish and finding the depth the groups are feeding in is the key to catching fish on it. Speed will change the depth, weight will also and yo-yoing it will achieve some vertical jigging and allow you to fish it in a different presentation.
Lastly, I found that swim bait colors on the A-rig bait can be a big difference maker; swim bait color is all-that when it come to the A-rig and being determined to find the right color may be the difference in catching not. I have found that dark swim baits vs. light colors can be big difference maker so if you're not catching fish on one color change your swim baits out and try another. A-rig catches fish and that is the bottom line of this bait.
Fish Lake Guntersville Guide Service
www.fishlakeguntersvilleguideservice.com
www.facebook.com/FishGuntersville
Email: bassguide@comcast.net
Call: 256 759 2270
Capt. Mike Gerry
Relate Articles: