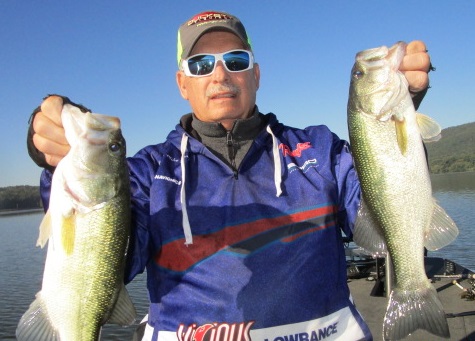 It's common every year as the bass make changes in their locations and the fall weather starts to set in fishing gets tougher. This change is constant throughout my many years of history, the fall is always tougher and you must adapt to the changes. The reasons for this, has a lot to do with the natural elements surrounding the fall time frame.
The big thing that becomes very obvious is the pure fact that the lake has gone through several shad spawns and there is a ton of small bait fish in bait balls all over the lake. The groups of bait is just overwhelming and the size of most this bait is less than 2 inches in length making small bait fish their number one feeding target. When this occurs you get forced to compete with this enormous amount of bait and you reach a decision of whether to match the size of the hatch or fish for just a few bites.
There are many baits that allow you to match the hatch, the first one that comes to mind is the rattle bait, even though the lake is full of grass you can still run the grass lines with rattle baits like the SPRO Aruka shad; it's perfectly colored and sized to catch fall fish. Second perfectly matched bait I like, is the SPRO Little John square bill it's the perfect size and runs over the top of the grass as the water leaves gaps in the depth between the top of the grass and the water line. Running this square bill over grass is just deadly as the bass can't stand that movement over the top of their head. Remember bass feed upward it's a proven fact and these square bills are perfect upward feeding baits for the fall.
Lastly I like to down size my soft plastics and go to a Missile Bait "48" stick bait you have many ways to rig this bait that works very well in the fall. Many people whacky rig it allowing the bait to flutter and move slowly down to the top of the grass. You can also Texas rig this bait with a light weight making it a bit more protected from hanging in the grass and dropping into the holes as the grass erodes on into the fall. Go small, down size and your bites will increase especially in this transition to fall time of year.
Fish Lake Guntersville Guide Service
www.fishlakeguntersvilleguideservice.com
www.facebook.com/FishGuntersville
Email: bassguide@comcast.net
Call: 256 759 2270
Capt. Mike Gerry