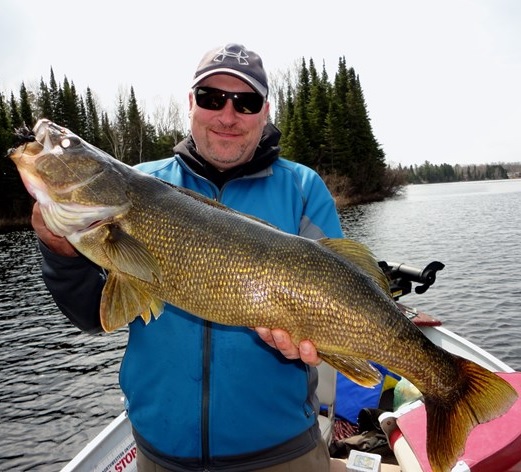 Cory Nephin serves as president of the Northern Ontario Walleye Trail and spends plenty of time around the sport. This week I would like to introduce an angler that has dedicated countless hours volunteering his time of bring competitive walleye events for anglers, here, other provinces and some from the U.S. to come and compete here in northern Ontario.
His devotion and passion to work along side other volunteers has resulted in both the Geraldton Walleye Classic and the Northern Ontario Walleye Trail to continually grow each year.
Besides volunteering, his fierce competitive nature has allowed him to win several events and to constantly place in many of the NOWT events over the years. 
I would like to introduce this weeks angler, NOWT President Cory Nephin :
Q: Where were you born?
CN: I was born in a small town located on the western part of northern Ontario called Atikokan.
Q: Who played a role in getting you started in fishing?
CN" I spent most of my early years fishing with my grandfather and uncle on Perch Lake, near Atikokan, where our family camp was located. They were both instrumental in instilling a love for the outdoors and especially fishing and hunting in me. 
Q: As a youth, where did you fish and for what?
CN: Although I moved to Thunder Bay at a very young age, I returned to Atikokan every summer as a youth and a teen to stay at my grandparents cottage and work at a local bait shop. My brother, cousins and I would spend countless hours on the water exploring new places to fish while unknowingly honing our fishing skills that would later help in our tournament careers. We often targeted walleye and bass although would on occasion search for large northern pike. 
Q: At what age did you start fishing?
CN: I don't exactly recall the first time I wet a line but there are photos of me in my grandparents boat sleeping in a bassinet. So, I imagine the first day I was old enough to sit up on my own and hold a fishing rod, would have been the day I began fishing.
Q: How did you get into walleye tournament fishing and why?
CN: I fished my first ever tournament over 30 years ago at the age of 16 with my father. Although it was a bass tournament and our placing was less than stellar, I was immediately addicted on tournament angling. I fished mostly bass tournaments until I moved east to Geraldton and found that the bass fishing was limited, especially tournaments. Luckily for me there were a number of walleye tournaments to fill the void. Once I tried one, I never looked back. There are a number of reasons why I love the sport of tournament angling. Of course I love competing with the best anglers the area has to offer, but more important is the comradery we have as competitors and anglers. I can honestly say many of what I would consider my best friends have been met through fishing tournaments. 
Q: What was your most memorable fishing experience and why?
CN: I have had many memorable experiences on the water with my family and friends. Whether it's fun fishing, a tournament win or a tournament disaster, I remember them all equally just not all in the same light. Although I am not able to chose a most memorable today, I have a feeling by the end of next summer my most memorable and probably most emotional experience will be fishing a tournament with my 9-year-old son. It will be his first "adult tournament" and I cant wait to see his first morning jitters and the excitement in his eyes as we wait for our boat number to be called.
Continue reading – https://www.timminstoday.com/columns/fishing-the-north/devoted-to-the-sport-1150754?fbclid=IwAR3l6T204aI1h0bYuXuvRaZ41kD3yhne-xifl5QM2t_gnZmOVfs8uZ5Cyng