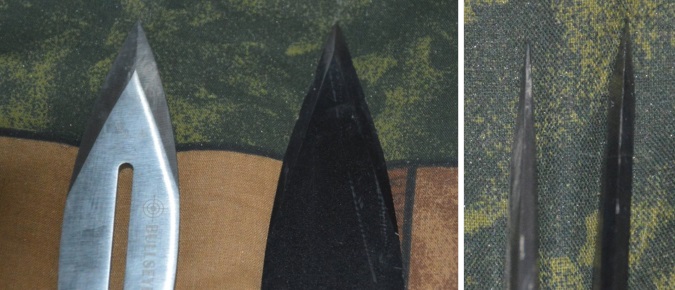 I've tried out the Smith & Wesson Corp. and Cold Steel throwing knives, and the Cold Steel win hands down. The Smith & Wesson are made of stainless steel, which is nice, but won't stick in anything other than maybe cardboard. The points aren't sharpened properly. Yes, they are sharp, but are too thick most of the way down.
Cold Steel makes their knives from Carbon steel, which can be made into a better point. The only drawback is that their tips will bend quicker.
Even the balance is better with the Cold Steel, but then again, it is a longer knife, so difficult to compare unless I had "apples to apples" in that respect.
There are a ton of companies making throwing knives, but just finding the right one is the trick. I know it has to be something like Cold Steel, but perhaps with more blade weight. A company called Perfect Point is supposed to have some fair products, but so far the ones I've seen are still with stainless steel, unless they've don't something different on the grinding and weight.
Another thing I've discovered in researching is that the paracord handle knives are not the route to go. That is mainly for looks, and once they start getting damaged and dirty it is bad news. What you want is something that really hits the target and sticks on a high percentage of the time. Smith & Wesson's knives do not, which is sad since I had very high hopes for these.
I'll report on more if I ever find what I want, which will be a model that will work for all throwing distances – 7, 10, 13 and 16 feet. Heck, all of my guns could place all rounds within the size of a nickel at those distances.
🙂
As I've said before, this is only going to be a little sideline for Shoot 'N' Plink™. Powder and air are still the primary focus.
Until next time, shoot safe, and have a great day of plinking.
#smithwessonthrowingknives#coldsteelcarbonsteelthrowingknives
Related Articles: