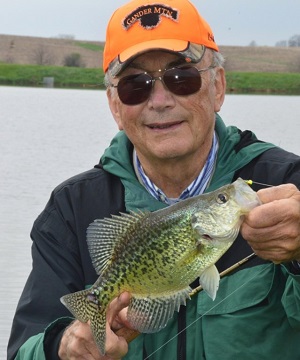 Don Banning, Pepper and I gathered at the lake side to see if we could catch anything after over 4 inches of rain.
We started out at one lake, but left to go to another, which proved to be a good decision.
The fish were in the shallowest part of the lake, and around heavy weed clumps.
Don was catching crappie on a 2-inch Berkley Fishing Power Minnow rigged under a float. He said most of his hits came as the float was paused.
I caught several bass on the Natural Forage Baits Swim Bait with a Blitz Lures LLC Swim Bait Head, and a NFB Drop Shad rigged on a BFishn Tackle H20 jig head.
The bass were located in weed clumps, and struck whenever it was paused in one of the clumps and jerked loose.
The lakes were flooded, and the water was muddy, but we still managed to find some fish.
I'm not sure what Pepper got into, but he has mud on his back, which means a bath tonight.
Until next time, get out on the water, and have a great day of fishing.
More From Dan — https://www.odumagazine.com/topics/headlines/featured-outdoor-writers/dans-fish-n-tales/