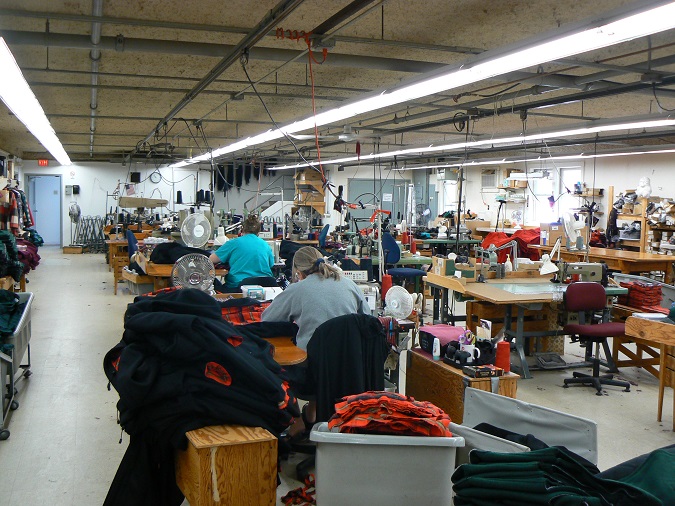 I know that there are a few of you out there that remember a time before synthetics.  A time where wool ruled when it came to outdoor clothing.  Wool pants, shirts, jackets and socks were the rule.  It was heavy, itchy and you often smelled like a wet dog when you came home, but it worked and it was the best thing out there.  In my mind it still is.  Wool would keep you warm, even when wet which made it perfect during those wet snowstorms that happen while in the deer stand or while hunting grouse.  Wool is the perfect material.  So if it is so good what happened to it?
Back in the late 1800s and early 1900s the wool industry was big business here in New England.  Both Vermont and New Hampshire was dotted with sheep farms and every major river had a woolen mill on it.  Then came the age of foreign made synthetics and foreign raised sheep.  With these less expensive materials available, slowly the sheep farms disappeared and with them went the mills.  For those of us who miss wool there is still hope and it lies in Vermont.  It is here that you will find Johnson Woolen Mills and Cabot Hosiery Mills, the makers of Darn Tough socks.  I was lucky enough to pay a visit to both factories while I was in Vermont doing a little fly fishing.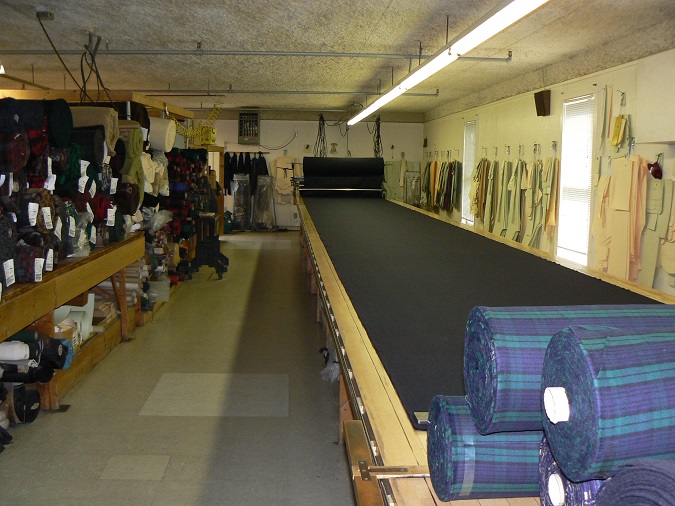 Johnson Woolen Mills:
Located in Johnson, Vermont Johnson Woolen Mills is the last of its kind in northern New England and one of the few left in the United States.  The mill was founded in 1842, during the great wool heyday and has been owned by the Barrows family since 1908.  When I visited I was met by Stacy Barrows Manosh, the fourth generation of Barrows to own and run the mill.  In fact it was Stacy who took me on a tour of the mill.
Since its beginning the mill catered to the person who worked in the outdoors; people like loggers and farmers.  While Johnson Woolen Mills still caters to the loggers and farmers, Stacy now finds that her clientele is comprised of ice fisherman, hunters and those people who participate in the outdoor winter sports.  The mill still produces the original wool pants, jackets and shirts in the traditional colors of red plaid and hunter green, to keep up with growing trends, they have added a line of women's and children's clothing in many new colors.  A new product that has just become available is a shirt that they call "Vermont Flannel".  On my visit to the mill I made sure I purchased one of these shirts and I love it.
Other things have changed as well.  Today the original mill building has become the mill store, that sells Johnson Woolen Mills products, and a new building was built to handle the 25 dedicated workers who hand sew the garments, just as previous mill workers did before them in the 1800 and 1900s. Stacy was kind enough to take me on a tour of the mill while I was there.  We started in the cutting room where huge bolts of wool cloth, in various colors, were stored on racks.  Stacy told me that though they buy U.S. wool, unfortunately, over 70 percent of the wool used in the United States is imported, with 40 percent coming from New Zealand and 30 percent coming from Australia.  Also in this room was a huge hardwood fabric cutting table that ran the length of the room.  On the wall, next to the table, hung the cardboard patterns for the many different products that the mill produces.  Some of these patterns date back to the 1950s, which in turn were the ones that replaced the originals of the late 1800s.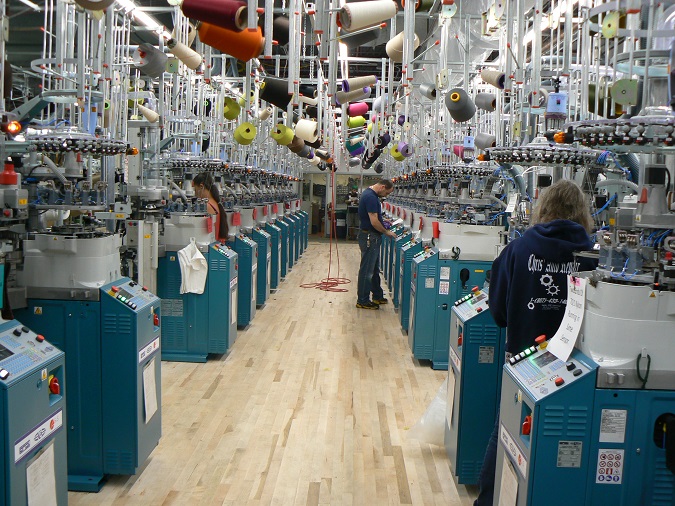 If you are in the market for a really good wool or flannel shirt or any other article of wool clothing made here in the United States check out there store in Johnson, Vermont.  Their clothing is also available in other stores.  I wear it and so should you.  Go to their website www.johnsonwoolenmills.com
Cabot Hosiery Mills:
My next stop was Cabot Hosiery Mills, the home of Darn Tough Socks in Northfield, Vermont.  I wear these socks and let me tell you, they are well worth every penny spent.  When I am hunting I want a sock that will keep my feet warm and dry and these socks fit the bill.  When your feet are comfortable then you don't mind walking around in the rain soaked woods in your pursuit of deer or grouse.
On this day I stopped in and the owner, Ric Cabot, was kind enough to show me around.  As we walked we talked.  All this company does is make socks.  Cabot Hosiery Mills was started by Ric's father in 1978.  Darn Tough was introduced in the late 1990s to fill a need.  With the market being overrun with cheaply made socks, outdoors people needed a product that they could count on.
The workers at Darn Tough take a great deal of pride in the product that they put out and it shows.  There is a great deal that goes into making a pair of quality socks and to be honest with you, much of what Ric was telling me was going right over my head.  What I did notice was the attention to detail that each worker was putting into their jobs and that impressed me.  The last thing that Ric told me was that if you can put a hole in a pair of their socks all you need to do is send them back and he will replace them at no cost.  You have to like that.
American made wool products are still out there and they are being made in Vermont.  I would rather pay a little more for quality American made wool than for foreign made products of questionable material.  When I am out in the woods I know I will stay dry.
By Dana Benner