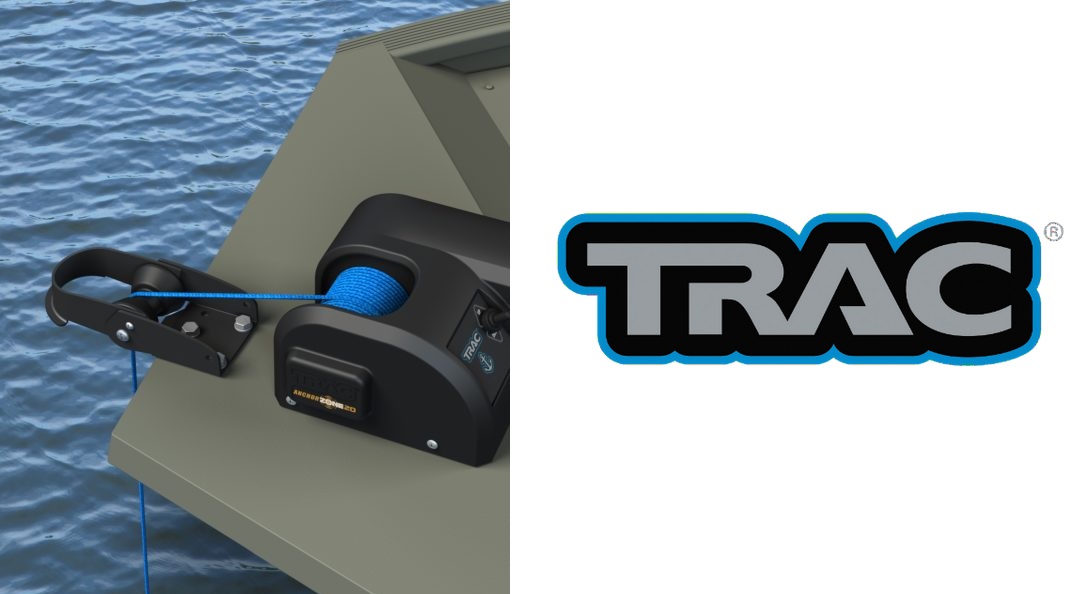 Nashville, TN, December 12, 2017 – TRAC Outdoor Products introduces the TRAC® AnchorZone™ 20 Electric Winch.
TRAC Outdoor Products' newest Anchor Winch makes your leisurely activity truly leisurely with UP/DOWN Operation and is perfect for retrieving and deploying river and mushroom anchors using anchor rope.  The anchor winch is simple to operate. To lower the anchor, hold the switch in the DOWN direction until the anchor reaches bottom. To raise the anchor, hold the switch in the UP direction. Release the UP switch when the anchor is docked or anytime you wish to stop the retrieval of the anchor.  
The AnchorZone™ Winch comes with a mechanical toggle switch that is installed on the winch cover.  For the AnchorZone, the davit is integrated with the winch frame for the easiest installation of all our winches and requires just 7.5"x7.5" of deck space – least in industry. The winch can be installed on the fore (front) of the boat. A second winch may be installed on the aft (rear) of the boat.
The AnchorZone™ Winch comes with rugged all-steel gears, 100' of 4mm (5/32") pre-wound double-braided anchor rope (500 lb. tensile strength), auto-resetting circuit breaker and 12' of heavy 14-gauge marine-grade battery wire.  It runs quietly and smoothly on 12v power with low amp draw.
And for a limited time, the new AnchorZone™ 20 Electric Winch comes with a FREE TRAC Digital Battery Meter. This handy pocket meter with back-lit LCD gives a clearer picture of battery voltage and charge level.
AnchorZone™ Winch Specifications:
12v Electric Winch uses less deck space just 7.5"x 7.5" (19 x 19cm)!

Small Craft Anchor Davit (roller) is perfect for anchors up to 20 lbs. (9kg)

Internally sealed mechanical toggle switch with added sealed boot – UP/DOWN operation

100' (30.5m) x 4mm (about 3/16") Anchor Rope with 500 lb. (227kg) break strength

12' Heavy 14-gauge Battery Wire

Retrieve 100 ft. of rope in 2 minutes!

20 Amp Circuit Breaker included

2-Year Warranty
Manufacturer's Suggested Retail Price:   $99.99
About TRAC Outdoor Products Company
TRAC Outdoor Products Company is a US-based product design and development company.  The company has been supplying packaged consumer goods to the Marine, Fishing and Sporting Goods markets as well as OEM components to boat and trailer manufacturers for over nineteen years.  TRAC focuses on 12 volt powered products with an emphasis on the boating/outdoor enthusiast.
TRAC Outdoor Products Company is motivated to make leisure activities less work and more enjoyable for our consumers.  We design products to exceed customer expectations in the opening to mid-range retail price-points.  Our leading product lines under the TRAC® brand name are electric winches for both trailerable boats and anchors.  The company also brings to market many more items, ranging from Bilge Pumps to Utility Carts – all to support the marine and outdoor lifestyle.  For more information, please visit www.trac-outdoor.com.
# # #
CONTACT
Shannon Glendowne
TRAC Outdoor Products
shannon@trac-outdoor.net