If this past few summers has taught me anything, it is that there is no wrong pattern or presentation during the heat of the summer time fishing. Unfortunately there is no bad pattern and there is no good pattern, bass hide for various reasons in the heat and sometimes no matter what you do, where you go or what presentation you use fishing can be feast or famine during these hot summer type days.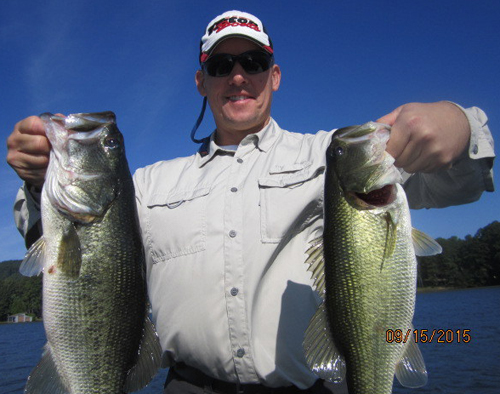 My belief is that some days you roll up to a spot and there are active fish and somedays they just do not bite; you just have to fish hard work different presentations try different areas and if the fish God is helping you can have a great day. This summer has been clear proof of this, one day the fish are on the banks, the next day on the river channel; I have caught fish from the backs of creeks to the main channel points; it is different every day. It is also true that the weather pattern has everything to do with it, the overcast rainy type days can best serve your fish catching ability, the sunny, dry, and no wind days add to the frustration. It is all over the map on what works and no one can predict what the next day will offer up!
I have also found that what many of us believe that the fish are deep in the summer can also be challenged by the results, some days the bass are in 4 to 6 feet of water and some days they are 12 to 20 feet deep. Why; well I have a theory, it's all related to oxygen levels in the water. As the summer progresses and the heat continues to pound the water it loses oxygen and forces the bass to move to areas that produce dissolved oxygen and that changes daily. Many days the oxygen levels are strong along the banks, and many they are not it changes with the wind, also current and rain levels we see during the hottest part of the summer change daily. Eroding grass many times hold the oxygen levels and sometimes it rip rap around causeways or rocky banks, where ever the oxygen level stays high the bass move there as well as the bait fish. Summer time can be frustrating but also rewarding you just have to be committed to the day until something clicks and when it does; work like hell to catch them!
Fish Lake Guntersville Guide Service
www.fishlakeguntersvilleguideservice.com
www.facebook.com/FishGuntersville
Email: bassguide@comcast.net
Call: 256 759 2270
Captain Mike Gerry