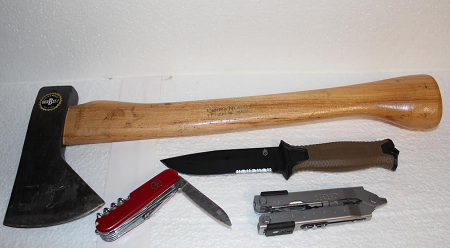 I have been writing about all aspects of the outdoors for over 30 years.  In that time I have been bombarded with requests to do product reviews on the "latest and the greatest".  Admittedly, if one peaks my interest and I think it actually has a place in my gear I will try it out.  If I like it, I'll write about it.  If I don't, then I won't.  If I really like it then I'll probably buy it. Honestly, about 90% of the products that get sent to me never get written about, by me anyway, and are sent back.
There are hundreds, if not thousands, of tools out there that are geared and marketed to the outdoorsperson.  Some are better than others.  Many of these new 'must haves" look like they were designed by someone whom has watched way too many Mad Max movies.  These tools combine an axe, hammer and a wrench with an entrenching tool and a can opener thrown in for good measure.  Unless I plan on finding myself fighting off the zombie invasion, these tools are not for me.  For me I like to follow the K.I.S.S. method (keep it simple stupid).
The places I go will dictate the tools and other gear that I have on hand, but there are four items that I always have:  an axe, a multi-purpose tool, a strong fixed blade knife and a Swiss Army knife.  With these four simple tools I can fix just about anything that breaks.  I can build a shelter if needed and I can clean game and fish.
Axe:
When I speak about axes in this instance I'm not talking about the large single and double-bladed varieties.  I am speaking of fairly small camp axes.  They are great for splitting small pieces of wood for the campfire and for taking down small trees for building a shelter; clearing small limbs to improve your field of fire and the blunt end can be used as a hammer in emergencies.  There are many good camp axes out there.  The one I use is made by Snow & Nealley out of Bangor, Maine.
Multi-tool:
My multi-tool is always in my pack.  Equipped with pliers, wire cutters, screwdrivers, a file and a small saw, I can do emergency repairs on everything from my rifle to my boots.  Like with axes, there are many multi-tools on the market.   Some are very good and some are a waste of money.  I carry one put out by Gerber.  It is made in America and has yet to disappoint me.
Swiss Army knife:
There are many multi-function folding knives on the market, but nothing is better than the original Swiss Army knife.  I have used this knife for everything from cleaning small game and fish to cutting bailing twine.  The tweezers are great for removing ticks.  This knife also includes scissors and an awl and if you ever run into that rogue bottle of beer or wine it has you covered here as well.
Fixed Blade knife:
While I carry the Swiss Army knife in my pocket at all times, whenever I venture out on an adventure my Gerber Strongarm is always either on my belt or on my pack where I can reach it.  American made, this knife can do anything you want, or need, a knife to do.  It is perfect for cleaning large game or splitting kindling.  It holds its edge even after prolonged use and abuse.
So there you have it.  Four simple tools that the outdoorsperson should have and can actually use.  You can go out and purchase one of those new futuristic multi-use, zombie killing tools if you like.  Who knows, it may be the right tool for you.  For me, I'll stick to the old tried and true.