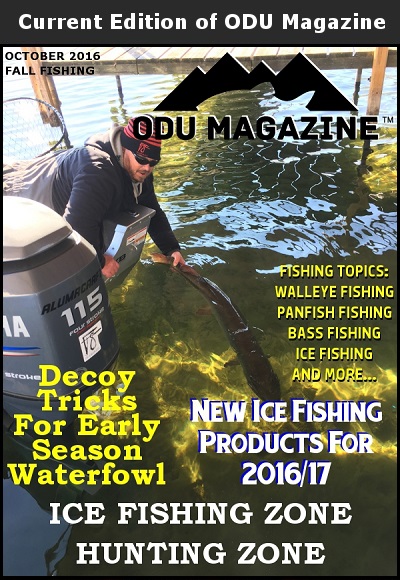 Call our Late October Edition of ODU Magazine a double barrel edition, with 130 pages of fishing and hunting coverage. Packed with 26 articles from open water fishing for bass, walleye, catfish, pike and more, to early ice fishing in the Ice Zone , and waterfowl hunting coverage in the Hunting Zone.
I think we have you covered!
Are you an ice angler? Then step into the Ice Zone and flip through the new ice fishing products for 2016-2017 we have selected to highlight our new product showcase.
The Hunting Zone goes all goose and duck crazy, so you can have a successful waterfowl hunt this season.
Link to this edition of ODU Magazine – https://www.odumagazine.com/Magazines/ODUOctoberFishing2016/
OPEN WATER –

Dog Days Bassin' Success, Pg. 8

Top Five Fishing Trips In Georgia, Pg. 12

"Hooked on Crappie, Pg. 19

Best Smallmouth Bass Trip Ever, Pg. 25

Check Out The New Swimbait Rod, Pg. 26

Fall Fishing Hit List, Pg. 28

Thumb Typers, Pg. 32

Winter Is Coming, Pg 35

Cold Weather Froggin'! , Pg. 37

Catch & Release Catfish, Pg. 38

Fall Funnel Walleye, Pg. 46

The Ultimate Fishing Kayak, Pg. 49

Deep Drop Panfish, Pg. 52

Drop Dead Domination, Pg. 56

Pluckin' Pike From The Weeds, Pg. 60
ICE ZONE –
New Ice Technique: Bring the Fish to You, Pg. 66

New Ice Fishing Products For 2016/17, Pg. 72-84

Ice Trix, Pg. 85

Ice Fishing Fast with Finesse, Pg. 92

On The Move For Winter Bluegills, Pg. 96

Finding Hard Bottom, Pg. 98

Stay Mobile and Catch More Fish, Pg. 102
HUNTING ZONE –
The Right Call Can Make All The Difference, Pg. 107

Sparrow Hawk, Pg. 110

Decoy Tricks for Early Season Waterfowl, Pg. 114

Goose Call Design and Selection, Pg. 120

Waterfowl Vision: Beating the Odds, Pg. 124