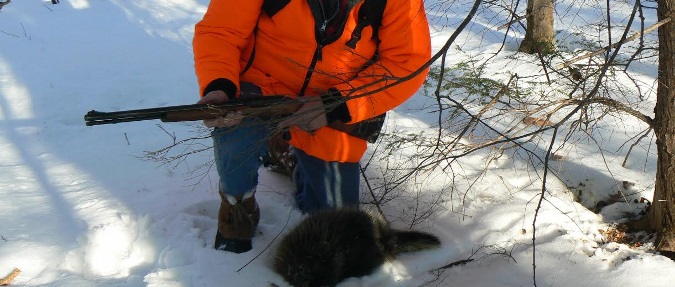 While I normally hunt for food there are certain times that you just need to get out and rid yourself of problems.  There are a few animals that I will shoot that fall into this category; rats, woodchucks and porcupines.  On this particular day porcupines were on the list.
     Anyone who owns a home (cabin, shed, etc) in or around the woods knows the damage that a porcupine can and will do.  They will chew on anything and everything.  This means that they need to be thinned out occasionally.  It was two days before Christmas and my friend Stan and I decided to head out to see what we could find.  As it was to turn out, our hunt was successful.
     With about 12 inches of snow on the ground we debated about using snowshoes or not, but we opted to go without them.  My rifle was my Marlin 60 autoloading .22.  My ammunition on this day was a box of CCI Copper 22 in .22LR.  As this was early winter and it was pretty warm (anything above 0 is warm) there was always the chance for running into bears that haven't gone into hibernation.  For that reason I was also carrying my Springfield XD-S .45ACP handgun on my hip.  The Springfield was loaded with Federal Premium HST rounds.  Of course I had my Blackhawk pack loaded with my first-aid kit, Gerber Strongarm knife and other essential gear.  Stan was carrying his 16 gauge Winchester pump just in case we bumped any grouse on our search for porcupines.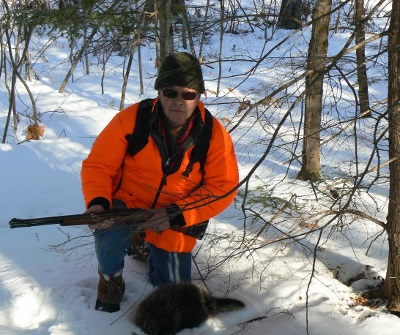 It was about 11:00AM when we arrived at the area we were hunting.  No need to get out too early as it is pretty cold first thing in the morning.  This spot was a mixed area comprised of an old apple orchard, hardwoods and pines.  I threw my pack on my back, loaded five rounds and set off, following an old farm round that lead into the woods.  As we made our way we noticed plenty of deer sign; something we noted for next season.  I also started picking up hare tracks.  I began thinking that besides porcupine I may be able to put a hare or two in the pot.
    I followed the hare tracks four a good portion of our time there.  The more I tracked, the more excited I became.  I quickly found out that I wasn't the only thing out there looking for the hare.  I soon came upon another set of tracks in the snow; a bobcat.  As good as I am at tracking; I know that the bobcat is better, so I left the rabbit to my four-legged competitor.  
     We spent about two hours searching this area, with the last ½ hour producing what we were looking for.  About 30 yards away we saw, or rather Stan saw, the porcupine.  He called me over as his shotgun would be worthless as it was loaded with birdshot.  I took a bead and shot.  This was a body shot.  One more to the head brought the porcupine down.
     The day ended with one less porcupine munching on the neighbor's sheds and homes.  No hares were taken, but I got to see bobcat tracks and that is a good thing.  Perhaps he ate well that day.
By Dana Benner