Well over a month ago ODU received the Flover Trolling Motor Classic motor 33F. We have used many electric motors and we wanted to see if this motor would stand up to our two North American giants. IT DID. Before you start thinking we tested a electric motor for your bass boat, we didn't. This was a 33 pounds of thrust motor, perfect for your carry in canoe and small row boat. We can simple say it was great, and it was.
We had another electric motor on hand (Minn Kota Endura C2 30-lb), we got last year and only had used a few times. We conducted two unscientific tests. We choose a dead calm day, bought two brand new trolling motor batteries and made sure they were fully charge. We hooked them up separately to one row boat and had the boat do a simple time trial across a lake and back between two points with each motor. Simple math would say that the Flover would have a 10% advantage over the other motor and the result would be similar. The Minn Kota run was completed in 39 minutes and the Flover complete the run in 31 minutes, a 25% difference in time.
We followed the 1st test up with another one, with two exact canoes with roughly the same equipment and two similar sized anglers in each canoe for a day of fishing. Again all batteries fully charged and we switched the batteries to ensure one battery was not operating at a different efficiency. We fished the same water, same windy conditions and travel literally the same distance. The motors were use at different energy levels based on conditions. We made several long runs as well to hit specific fishing spots as well, really testing the units. To say the least they were used hard for an almost full day of fishing. At the end, the Endura used it's battery faster and had to be paddled back. The Flover was running when we returned to the dock.
The control handle work effortlessly and had no bugs. As with all electric motors, the Flover was silent. The motor was easily adapted to the canoe and row boat. We would recommend this product without question.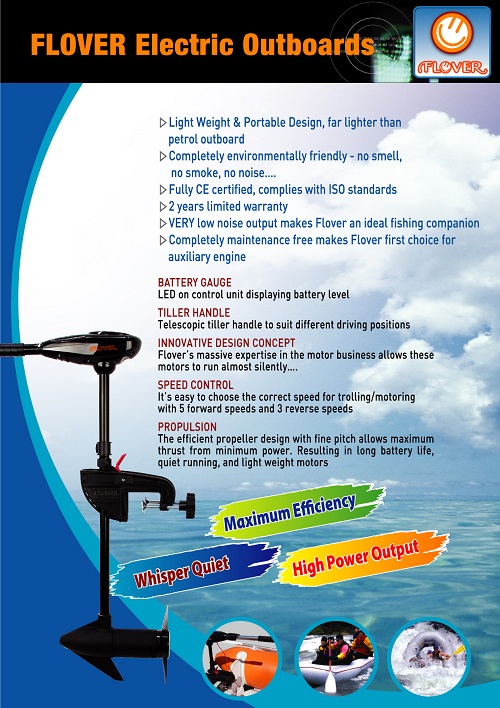 We hope to see the 55 pound model soon or bigger. When these motors start showing up in the US market we will report who has them and at what price.
First write up – https://www.odumagazine.com/flover-trolling-motor-the-new-trolling-motor-on-the-block/