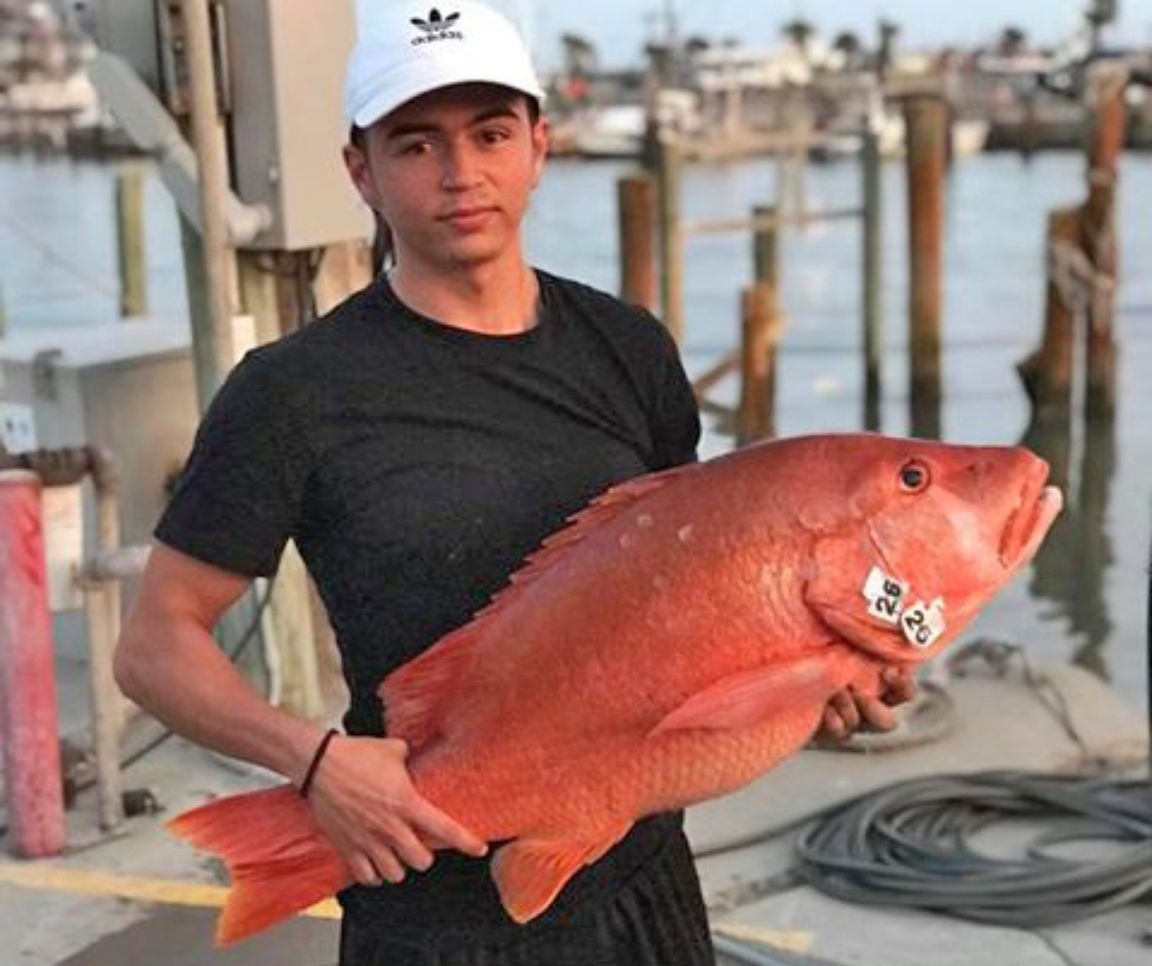 A San Antonio offshore angler fishing for red snapper, instead caught a dogtooth snapper that is poised to best the current Texas record by more than 8 pounds.
Rene Hernandez, 23, was fishing Saturday night aboard the Dolphin Express party boat with Capt. Timmy Oestreich out of Dolphin Docks in Port Aransas when he landed a 22.82-pound dog snapper. The unusual species for Texas waters also is called a dogtooth or snuggletooth snapper because of its large canine-fangs.
Following the 11-hour overnight snapper adventure with about 40 other anglers, Hernandez had the fish weighed on a certified scale and inspected by a marine biologists to verify the species. Later, he submitted an application to the Texas Parks & Wildlife Department for consideration.
"It felt great, it was unreal," said Hernandez, formerly of Corpus Christi. "At first I thought it was just a big red snapper, but once the deckhands looked at it they said it was the a dog snapper. The captain even came down to congratulate me. He said in 31 years he had only ever seen two (dog snappers)."
The 33.75-inch brightly colored fish had a girth of 26.45 inches, Hernandez said.
"The certification process in the works," said Steve Lightfoot, with Texas Parks & Wildlife. "We're waiting on the angler to submit a notarized application so we can process it."
The current Texas record caught in 2004 weighed 14.40 pounds and measured 26 inches long.
"Once we pulled out the book of records I knew I for sure I had a state record," Hernandez said. But talks among the ship grew that I could possibly have a world record. That's when it started to set in like 'wow, I am going to be a part of something.' It's just a great feeling."
Caller-Times reported this news first. More outdoor news from Caller Times: https://www.caller.com/sports/outdoors-with-david-sikes/