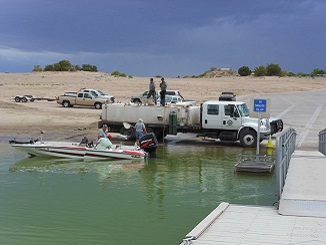 Results aren't definitive, but "signs" are promising, as a collective effort to restore Elephant Butte's bass fishery continues.
Signs posted by New Mexico Game and Fish (NMGF), asking anglers to voluntarily refrain from fishing in spawning areas is latest effort. Sadly, spring drawdowns might have negated the strategy.
"The largemouth bass are spawning so shallow that the nests may be high and dry before the eggs hatch even if they are left alone," said Earl Conway, New Mexico B.A.S.S. Nation conservation director (CD).
Still, both he and NMGF biologist Kevin Gardner believe the effort will help draw more attention to "the challenges bass face in irrigation reservoirs.
"Based on the amount of chatter I see on social media and a few emails I have received, we certainly met the objective of getting people more interested in the situation," Conway added.
Elephant Butte was built on the Rio Grande a century ago solely  as a water supply reservoir for El Paso and to provide irrigation, both in the United States and Mexico. With drawdowns occurring annually for crops at about the same time bass spawned,  the sport fishery somehow managed to endure for decades, mostly thanks to a good forage base.
But then several years of droughts and low water levels caused the bass population to decline precipitously. Continue reading – http://www.activistangler.com/display/ShowJournal?moduleId=8830791&SSScrollPosition=2970