Fall is around the corner and here in New Hampshire that means hunting.  It is also a chance to wet your line once again before the ice and snow that is sure to come closes off open water.  While most of the hunting begins in earnest October 1st, September does offer opportunities for those looking to get a start on the season.  September 1st marks the opening of the Resident goose season, as well as the squirrel season.  This is good news for those of us that feed our families primarily upon what we can hunt or catch, and right now my freezer is pretty empty.  All of last year's meat is gone and I'm down to about five trout.  I never got my spring turkey, so I need to get some more fish and a goose or two.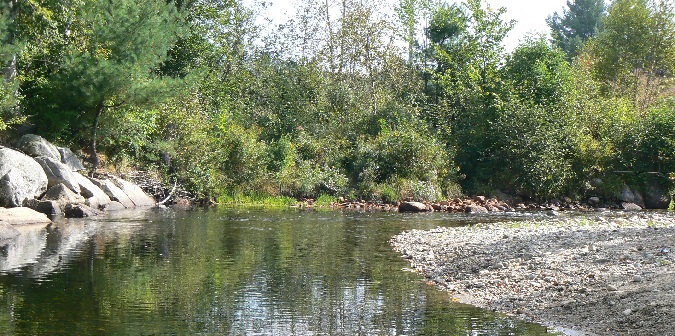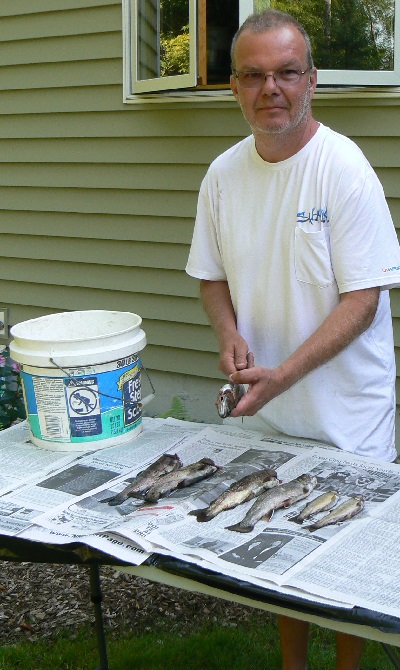 I have been scouting areas in southern New Hampshire and all of my local fields are still pretty full of corn.  They should be fine in a couple weeks, but right now they aren't good for geese.  Other areas where I see geese are posted property and I can't get owner permission to hunt due to bad experiences the landowners have had in the past with other hunters.  There is always more fishing, but water levels and temperatures are making that hard in the southern part of the state.  Just when things were looking pretty bleak I got an email from my friend Mark who lives up in Lancaster.  He wanted to know if I would like to come up and do some trout fishing and goose hunting.  Seems that he and friend Rob, both new to goose hunting, were looking for a third gun for geese.  I jumped at the chance and started prepping my gear.
     My gun was going to be my 30 year old Mossberg 500, 12 gauge pump with a modified choke.  Into a milk crate that doubles as my seat in the field I loaded a few boxes of Federal Black Cloud FS Steel, three inch shells in BB shot, and the stakes for my homemade goose silhouettes.  Into my backpack went my camo gear, a Haydel H-81 Honker goose call, my Bushnell binoculars and Rubicon re-chargeable headlamp.  My raingear, first-aid kit and a compass rounded out the gear in my pack.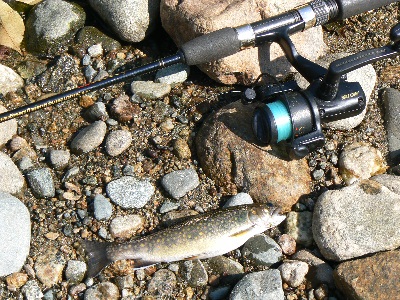 As my shotgun had not been out since the spring turkey season, I decided to go over it with a fine toothed comb. Even though I cleaned it before putting it away, I cleaned it once again and then sprayed it with Get Some lubricant.  I like this stuff as it really makes a difference in the operation of the action.  I even spray my fishing reels with it.  With my gun taken care of I turned my attention to my fishing gear.
     As Rob couldn't hunt on opening day, Mark told me we would go fishing at some "spots" he had been meaning to hit, but he wouldn't tell me where.  That meant I had to be ready for anything.  My fishing gear consisted of my Abu Garcia light action rod coupled with my Zebco 304 spinning reel spooled with Berkeley six pound test monofilament line.  I also carried my South Bend ultra-light rood coupled with an Eagle Claw spinning reel spooled with four pound test Shakespeare monofilament line.  My last rod was my Pflueger #5/6 fly rod coupled with a Shakespeare reel spooled with Cortland floating line.  With these set ups I would be ready for any water Mark wanted to take me to.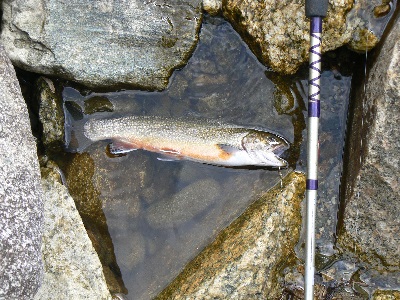 I arrived in Lancaster at about 9:00am and we were soon on the way to the first fishing spot, the Israel's River.  Despite what the weathermen have been saying about the North Country getting all of the rain this year, all of the rivers were pretty low and the Israel's River was no different.  Due to the dry spell we needed to search for some deep pools that would hold trout.  Sizing up the situation I decided to go with the ultra-light set up and a worm, fished using one small split shot just to get it deep.  My third cast produced the first fish, a nice, though small, seven inch or so brook trout.  Mark also found a hole and pulled another brook trout about the same size.  With these two fish we decided to move on.  Our next stop was the Ammonusuc River, where we pulled out four rainbows and two more brook trout.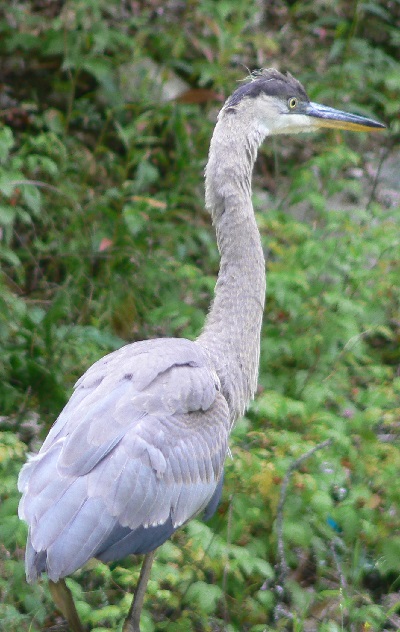 During our drives from one fishing hole to the next I learned that Rob and Mark had come up short on finding places that we could goose hunt the next day.  While there were plenty of geese, getting permission to access them was a different matter.  It seems that there are a lot of people moving into the area and then posting their land, the same issue we have in the southern part of the state.  We needed to find a spot.  Visiting Airport Marsh I noticed a ton of goose scat and pin feathers, telling me that there were geese using this area.  Airport Marsh is near the small private airport and there is a field right there, though it is small.  There was evidence of geese going to that field, it wasn't posted and there was plenty of space away from man-made structures.  I told Mark that this may be our best bet.
     That evening I discussed the game plan with Mark and Rob.  We needed to get out there early, set up the decoys and hope for the best.  I had no idea if the geese used that field in the morning or the afternoon.  This was going to be hit or miss.  When we arrived there was already another hunter in the field.  I told Mark and Rob that we needed to back out quietly and slowly as not to ruin that hunter's hunt.  Just as we made it back to the truck the geese started coming in to the field, with the hunter taking at least one of them.  Though we didn't get our birds, this was a teaching moment.  Mark and Rob learned the importance of finding the geese before the season starts and securing permission.  They will be ready next time.
     I headed for home with my trout in a cooler.  Though I never got a shot off at the geese I had a great time.  I hadn't seen Mark and his wife Wendy in over a year and it was good to catch up.  I saw a ton of wildlife to include deer, turkey, moose, and yes, geese.  Come October I may find myself up here once again.  I heard the rabbit hunting is pretty good.
By Dana Benner
Save
Save