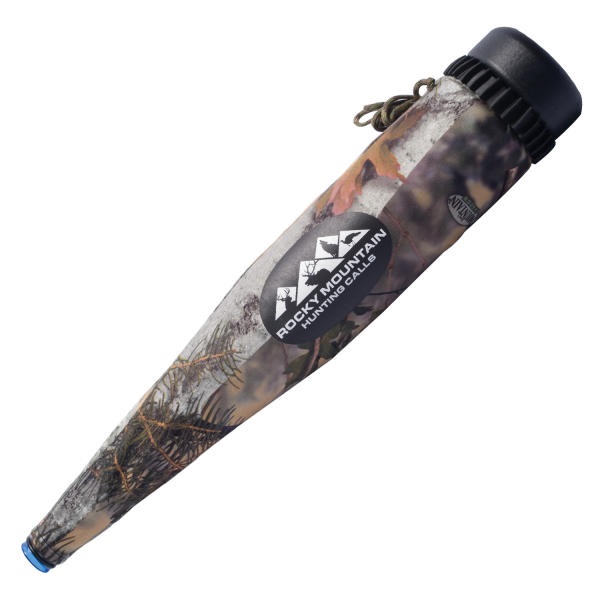 Rocky Mountain Hunting Calls has created a new bugle tube, The Wapiti Whacker. This bugle tube was designed by World Champion elk caller Rockie Jacobsen. His goal was to create the most realistic sounding elk bugle tube ever, in a size that is easy to handle in the mountains of Idaho.
The Wapiti Whacker starts with a blow molded tube that is 20" long. The dimensions of the inner hole size help to create deeper, raspier base sounding chuckles, growls and grunts. The larger chamber helps to create the accuracy and realism of elk calling. The V.E.T.T. mouthpiece utilizes a tuned coil spring. The spring helps create more volume, stabilize higher notes, maintains high pitches and takes less air pressure to operate. The V.E.T.T. mouthpiece enlargement ring can snap on to change the opening from 1 1Ž4" to 1 1Ž2". The Wapiti Whacker also has a rubber coated end cap and Tube Tamer to eliminate plastic vibration sounds. The Wapiti Whacker has a King's Camo Cover for concealment and a lanyard for easy carrying in the mountains.
Rocky Mountain Hunting Calls is located in Kamiah, ID. Rockie Jacobsen, owner, has over 33 years of experience in designing, manufacturing and assembling game calls. Rockie has won 4 Elk Calling Titles over the years and he has been issued 2 patents for game call design. Rocky Mountain Hunting Calls have been used to win over 60 World Elk Calling Championships to date!
For more information on Rocky Mountain Hunting Calls, visit www.RockyMountainHuntingCalls.com.
If you would like more information about Rocky Mountain Hunting Calls, contact Mike Mattly at 641-895-1004 or mmattly@gmail.com.