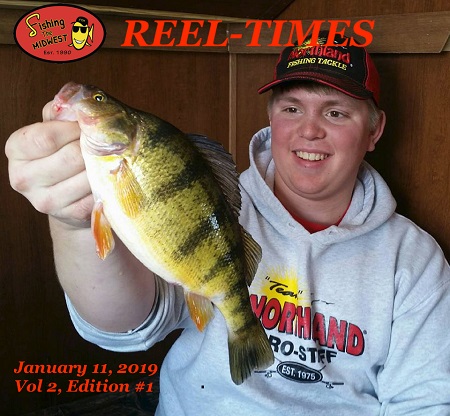 JUMBO TIME! CATCH MORE PERCH NOW! In the last REEL-TIMES issue, we mentioned a unique one-two perch punch that Big Stone Lake fishing guide Tanner Arndt (shown above) uses to "call in" and catch more jumbos through the ice.  We received questions and comments regarding the method following that issue   So, in this edition, we'll delve a bit deeper into Tanner's highly productive and somewhat unique technique.
We'll also look at last week's 2019 debut episode of Fishing the Midwest TV and look ahead to what's coming this weekend.   You will, in fact, see Tanner's one-two perch punch put to use on TV this weekend!
We encourage you to please READ ON as there is lots of information below that can help put more fish topside right now!
ONE-TWO PERCH PUNCH
Rip 'em in & catch 'em! 
 
Fishing the Midwest TV host Mike Frisch was with Tanner Arndt and Casey Dahl, a Bass Pro Shops and Cabela's School of Fish graduate, recently fishing Big Stone Lake.  The guys were also filming this weekend's Fishing the Midwest TV segment.
As stated above, Tanner uses a unique method for calling in and catching perch.  This method is one Tanner has used for several winters now and has been shown on Fishing the Midwest in the past as well.  Because it continues to put fish on the ice in good numbers, it merits further discussion.  Not only does the technique  work great on Big Stone Lake, but it is applicable any place that jumbos swim!
WHAT:   Tanner relies on a lipless rattle bait (one) and a small tungsten jig (two) worked in conjunction and rigged and ready on two separate rods.  The noisy rattle bait is used to call perch in, while the tungsten jig is the catching tool part of the system. 
WHEN:  The "call in" part of the  technique works great after initially drilling holes in an area, as fish may swim off a short distance when spooked by the noise of holes being punched.  Or, if a once productive area becomes void of fish showing on sonar, its time to start "calling" again!
HOW:  Tanner prefers the smallest 1/8-ounce Rippin' Shad because it's noisy and creates a commotion on the fall, yet is small enough that the occasional aggressive perch eats it!  Because he's trying to appeal to fish from a wide area, he also likes a bright-colored bait.

Tanner starts by aggressively ripping the bait up a few feet and allowing it to free fall back after each rip.  He rips several times, all the while keeping a close eye on his sonar screen for the sudden appearance of fish.
(HINT: No-stretch braided line works good for ripping as the no-stretch characteristic of braid allows for more responsive, aggressive bait movements when ripping.)
When fish do show up, Tanner may slow the rattle bait's action trying to trigger a bite.  Most days, however, the rattle bait may be a bit much for the fish to hit.  When that's the case, Tanner quickly reels up and drops down a small tungsten jig pre-rigged on a second rod and tipped with a spike.  Subtly fishing the tungsten jig just above the fish's level often leads to a bite.  
Many top ice anglers like Tanner prefer tungsten jigs because they are denser than lead, so a tungsten jig of similar profile will fall faster than a lead jig.  This allows the bait to quickly get down to fish appearing on a sonar screen before they swim off,  yet also allowing for the small size offering that perch and other panfish usually prefer.

Roaming perch often only stay in an area a few minutes and a heavier tungsten jig also fishes more efficiently, getting back down quicker to the school once a fish has been caught.  Tungsten usually allows for an additional fish or two to be caught from each school before it flees.

(HINT: Tungsten jigs fish well on light line like 3-pound Floroice as it allows for a nice subtle bait action, is nearly indivisible underwater, and also handles well in cold weather.)
REEL IMPORTANT PIECE OF EQUIPMENT!
As you can see, sonar is very, very important to the success of the one-two perch punch Tanner uses.  Sonar tells him when its's time to call and when its time to catch so he knows what rod to have in his hand!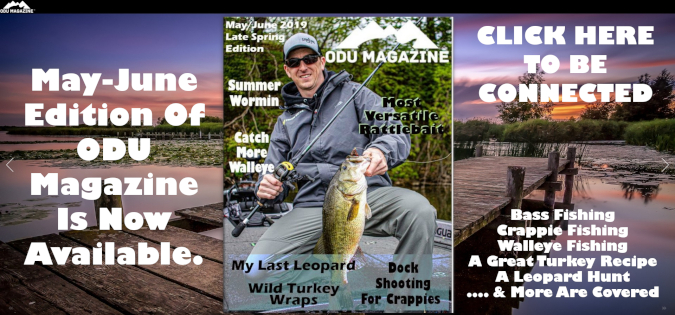 The Fishing the Midwest team has relied on Vexilar flasher units for most of our ice fishing careers because they are very reliable, easy to use, and do a great job of showing us all we need to know about the underwater world. Vexilar has units packed with features and is sure to have a model that will fit your fishing style and budget!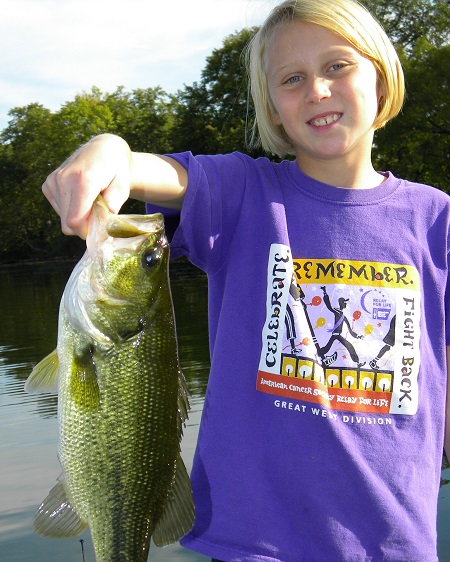 FTMW TV SEASON KICKS OFF!
HANNAH'S BASS BATTLE II & SEASON PREVIEW ! 
Fishing the Midwest TV 2019 debuted last weekend on stations all across the Midwest and on the World Fishing Network.  In the season opening segment, Mike Frisch and his daughter Hannah spent an action-packed afternoon catching smallmouth bass in central Minnesota in a segment titled "Hannah's Bass Battle II."   
Hannah made her first TV appearance in "Hannah's Bass Battle" several years ago when she fished with Fishing the Midwest founder Bob Jensen and her Dad and the three anglers caught a bunch of largemouth bass.  Hannah's all about bass fishing and, in this segment, she catches post spawn smallies finesse fishing using KVD Dream Shots.  After that, viewers can see previews from several other upcoming 2019 TV episodes.
To see "Hannah's Bass Battle II" and the preview show, click on Hannah's image above.  To learn more about the lures and other products shown above, simply hover over the image and click.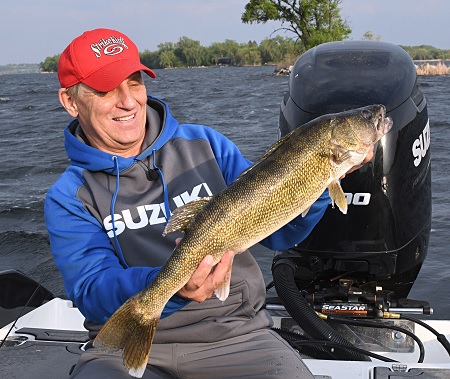 BACK TO THE ROCK! 
We go back to Big Stone Lake this coming weekend on Fishing the Midwest TV in the "Return to the Rock" episode.  As stated above, we catch winter perch and some giant bonus bluegill through the ice.  Before the ice fishing, however, Mike Frisch is joined by Artie Arndt pitching jigs to shallow spring walleyes.
Artie has won a small fortune pitching jigs in tournaments for Big Stone walleyes recently!  In this segment, he shares some of his tourney-winning jig fishing  secrets.  Also, Mike catches one of the year's biggest "TV walleyes" on one of his first open-water casts!

Click on Mike's photo with that walleye above to go to the Fishing the Midwest "Award Winning TV" page to find a station and time to see this coming weekend's TV episode.
Related articles: