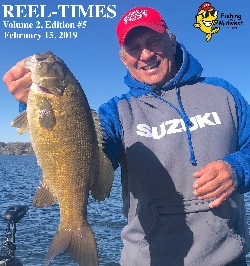 OPEN WATER DREAMING! TV recaps, open water prep, and a look back – The recent "A look back, a look ahead" Fishing the Midwest TV episode garnered so much attention and feedback that we decided that an interview with Bob Jensen, Fishing the Midwest's founder, regarding his long career in fishing TV would be an interesting follow up.  To that end, we sat down with Bob recently and posed several more questions to him regarding his Hall of Fame career.  Below are what we think are interesting excerpts from that conversation.
Clear Lake, in north central Iowa, has become one of the premier fishing lakes in the Midwest.  This popular lake and the surrounding area were subjects on last week's TV episode.  Below you can see a link to that episode and, we take a look at the coming weekend's TV episode as well.
Finally, another open water fishing season gets closer every day!  Mike Frisch, Fishing the Midwest TV show host, recently wrote a fishing story looking ahead to the coming season and discussing some things anxious anglers can do now to get ready for the coming season.  Accomplishing these tasks now not only helps "scratch the open water itch," but are things anglers will be glad are done when open water actually arrives!  We'll take a look at parts of that story and some of Mike's suggestions here too.
Lots of "fishy stuff" here, so please READ ON!
A LOOK BACK                                                    
Bob Jensen and a look at "how it all started!" 
As previously stated, after the recent "A look back, a look ahead" TV episode aired we got lots of positive feedback.  So we visited with Bob Jensen and posed several more questions to him regarding his fishing and TV career.  Below are some of those questions, along with Bob's responses.
HAVE YOU ALWAYS BEEN INTERESTED IN FISHING?
Ever since I was very young.  There was a small stream about a mile from our home.  In the summer I would walk or ride my bike to it, sometimes alone, sometimes with friends.  I would hear the noon whistle blow, go home, get something to eat, and go right back down to that stream.   I spent a lot of time there.
HAVE YOU BEEN ABLE TO APPLY ANY OF THAT TYPE FISHING TO YOUR CURRENT FISHING?
In that little stream I learned some species of fish live near rocks, others live near current, and others prefer areas
without current.  We caught suckers, bullheads, chubs, bluegills, and sometimes smallmouth bass.  I discovered that different areas and different techniques appealed to different fish species, and that certainly holds true today.
WHEN DID YOU DECIDE YOU WANTED TO MAKE A CAREER OUT OF FISHING?
I knew in junior high that I wanted to be involved in fishing or hunting or something outdoors.  I wasn't a motivated student in high school but I did well in English, and that has been a big help in my career in fishing and outdoor communications.
WHAT WAS IT THAT ENABLED YOU GET A FOOT IN THE DOOR IN THE FISHING INDUSTRY?
I moved to Brianerd, Minnesota shortly after high school and by chance met Ron Lindner.  He and Al were just getting the In-Fisherman off the ground.  Ron invited me to visit their offices and he showed and explained to me what they were doing.   I thought that looked interesting and would be something that I would enjoy.  I started writing fishing articles for a variety of fishing publications, and then heard about Camp Fish in Walker, Minnesota.  I started working there as an instructor.  That's when I really learned about fishing.  When we weren't working at camp, we were fishing!  Much of my early bass fishing was shoreline related.  I discovered at Camp Fish very quickly that bass like deeper water and so I started  fishing the deeper areas and caught more bass than ever.
HOW DID YOU GET INTO THE TELEVISION BUSINESS?
I met a lot of industry personnel at Camp Fish, and several of them got me scheduled to do fishing seminars at sport shows across the Midwest.  I was speaking at the sport show in Des Moines, and afterwards Gene Shaw, Gene worked at the ABC affiliate in the Des Moines market, contacted me about getting involved in Fishing Iowa, a show they were launching.  I did Fishing Iowa for about four years.  The television station was sold, and the new owners didn't want to produce shows anymore, so I decided to create Fishing the Midwest on my own.  
WHAT CHANGES HAVE YOU SEEN IN YOUR 40 YEARS IN THE FISHING INDUSTRY THAT ARE THE MOST NOTEWORTHY?
There have been so many changes in products.  All the equipment is so much better, and we can do things with electronics that most of us never would have thought of.  But the biggest changes is the quality of fishing.  For the most part, for quality and quantity, fishing is so much better now.  There are areas of trouble, but because of better equipment and way more fishing knowledge, fishing is just so much better now that it was when I started, and I hope and expect that it will continue to improve. 
WHAT ARE YOUR PLANS GOIING FORWARD?
I'm slowing down a little bit, but I hope to stay involved in the fishing world in some capacity.  I would like to visit some of the places where I've fished in the past, and would also like to visit new waters.  My plan is to keep sharing my experiences on the water in some way.
**In case you missed the "A look back, a look ahead" TV episode, simply hover/click on Bob's image above with one of his back-in-the-day "TV walleyes" to be directed to the Youtube link.  While you're there, please subscribe to our Youtube channel too!
FAST TV FISHING ACTION
Clear Lake, Iowa – a favorite fishing destination! 
Bob Jensen recently joined Kevan Paul and Gary Sturges, two of Clear Lake's top multi-species anglers, for a day on the ice on Clear Lake chasing the lake's numerous yellow bass.   Last weekend's TV episode detailed their day.  Hover/click on the photo below to see the episode in its entirety.
Military Appreciation Week!
This week on Fishing the Midwest, Mike Frisch is joined by Military Veteran James Hinchey on our first- ever Military Appreciation episode.  James and Mike fish northern Minnesota chasing walleyes holding on mainlike structure using live bait rigs tipped with crawlers.
When the action slows, the duo abandon the structure/live bait pattern and head for deeper water and switch to crankbaits trolled on lead core line.  This pattern quickly produces several fish, including some the day's biggest fish.
Tune in to see all the action this weekend.  "Clicking" the following link will direct you to our webpage with a list of TV carriers and viewing times should you want to tune in to this entertaining episode:
https://www.fishingthemidwest.com/award-winning-tv
OPEN WATER PREPARATION
A Look Ahead!
Like many of you, Mike Frisch is getting spring fever!  That means he's starting to make equipment preparations for the coming season.  Recently, Mike wrote a fishing story about some of the tasks he's doing now that we thought might be of interest to our readers too.   Here are some interesting tidbits from that story:
Regarding tackle:                                                                                                                                                                                    
Now is the time to dig out tackle boxes that haven't been touched from last fall, take inventory of what remains, and make a list of needed tackle.  I also reorganize what remains in each box as well and prepare "homes" for those items to be purchased. 
This coming season I do anticipate staying more organized with my tackle.  Because, I sampled a couple of the new Lure Lock tackle boxes last fall.  These storages feature TakLogic Technology which holds lures in a soft, safe place preventing movement, keeping them protected, and keeping their hooks sharp.
Stocking new stuff:             
As a TV fishing show host, I am fortunate to occasionally get my hands on new lures before they hit store shelves.  Last fall, I sampled a couple "new for 2019" tackle items that earned places in my boat for this season.
The new Baby Z-TOO is a junior-sized version of the popular Z-TOO soft jerkbait.  This little bait produced big smallmouth bass on several trips late last season.  They're made from ElazTech giving them tantalizing action and also good durability, often allowing several fish to be caught on one bait.   
Don't ignore your line:
Starting your season with fresh line will mean better line manageability, and increase your odds for landing that first trophy fish.   Lots of kinds of fishing lines are available.  Much of my fishing centers around using braided main line on my reels, with Tactical fluorocarbon leaders added between the braid and lure.                     
Low-stretch braids offer super sensitivity, while the fluorocarbon leader acts as bit of a shock absorber to help land hard-fighting fish and, is also less visible underwater.
I'll respool with fresh braid now and, because braid is also very durable, use it all season long, only occasionally retying new leaders.
**Hover and click on the cover image at the top of this publication to read the whole story and see more great open-water prepping tips.  Incidentally, the smallie Mike is holding in the cover image is one he caught while sampling the new Z-TOO baits mentioned above last fall.
ENTER for #freestuff 
TV Giveaway continues!                                                                                  
We are giving away all the great gear shown in the boat here -boat not included (sorry!).   To enter hover and click on the boat image to be directed to our Facebook page.  Once there, "like" us!  Also, subscribe to this newsletter (if you aren't already a subscriber) at the top left-hand side of this edition.  The first week in April we will draw one newsletter subscriber's name and, if that person is also a Fishing the Midwest Facebook follower, she or he wins all the gear!
Also, we'd really appreciate your help in getting this newsletter to more "fish heads."  So, if you have friends who might be interested, please send this edition to them.  They can subscribe in the upper left-hand corner.
Thanks for reading!  We'll see you again next time and, as always, remember to include a youngster in your next outdoors adventure!
Related links: