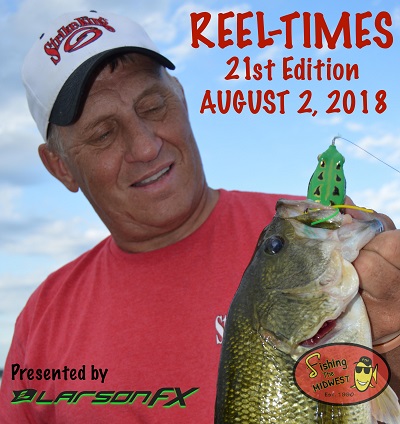 ICAST II & MORE! We share some more new and cool "stuff" that Fishing the Midwest's Mike Frisch saw at the recent ICAST show in this REEL-TIMES!  ICAST is the annual sport fishing industry trade show where companies reveal many of their new products for the coming year.   In the last REEL-TIMES, we previewed some hot new items and show some more "fish-worthy" items below.
Before that, per usual, we check in with top fishing guides and fishing destinations across the Midwest for their up-to-the-minute fishing reports with information that can help you get bit this weekend.
The Fishing the Midwest team is preparing for a very busy late summer and fall, with lots of travel and fishing television shoots on the upcoming schedule.  Coming editions of REEL-TIMES will reveal what the guys all "got going on" as they travel the Midwest fishing and filming!
Lots of good "fishy" information here so please read on!
REEL REPORTS
Stay on the move to find late summer biters! 
LAKE SAKAKAWEA (ND) FISHING REPORT: 
Indian Hills Resort:  Walleyes have moved out deeper into 20-30 feet of water.  Be sure to use heavier bottom bouncers with slow deaths and spinners.  Productive fishing locations have been scattered, with the north side of the lake producing well.  The numbers of fish have slowed, but the quality is very nice with 3-4 lb fish!
KELLY SORGE — Indian Hills Resort http://www.fishindianhills.com
BIG STONE LAKE (MN/SD) FISHING REPORT:     
The perch bite on Big Stone has continued to be productive!  Most perch have been found along the basin edges in 12-14 ft of water vertical jigging, while some are getting a few nice bluegills mixed in as well.  Baits of choice have been chain jigs and small tungsten tipped with spikes.
Artie's Bait & Tackle (320) 305-3754 –TANNER ARNDT, FISHING GUIDE AT ARTIE'S
WEST CENTRAL MINNESOTA FISHING REPORT:
Mid-summer walleyes are being caught in Mary, Reno, Ida, Big Chippewa and the Le Homme Dieu chain, with the early morning and evening bite being the best.   Various live bait snells and spinners tipped with leeches and crawlers in 18-38 foot of water (depending on the lake) are producing fish. Staying on the move looking for active fish has been most productive.
Bass fishing on the deep weedline is still very good on many area lakes.  A jig and plastic worm combination, the classic "jig-worm" set-up, is producing very good fish numbers.
Fishin' With Frisch Pro Guide Service (218) 731-8141 –MIKE FRISCH
LAKE FRANCIS CASE & LAKE SHARPE (SD) FISHING REPORT:
The fishing in Lake Sharpe and Lake Francis Case near Chamberlain, SD. has slowed.  Successful anglers are staying away from the crowds, fishing many different locations and are relying on their electronics to find active fish.  Once active fish have been located, bottom bouncers and small spinners tipped with half a crawler has been the best presentation.  Speed and color seem to change hourly.
Dakota Prairie Guide Service –JIM KLAGES, 605-680-1910    http://www.dakotaprairieguide.com
KABETOGAMA LAKE (MN) FISHING REPORT:
Walleyes are scattered as they have transitioned to the edges of reefs in larger numbers.  With the mayfly hatch now behind us, they are searching in deeper water for forage and a little more difficult to predict and moving daily.  In my opinion, I enjoy a good mayfly hatch.  That may contradict with lots of walleye fisherman but when the mayflies are hatching I believe the fish are easier to find.  Find the mayflies, find the fish!  So, with that being said, when the wind is blowing still work the windblown weed edges and shorelines.  On Kab, a lindy and leech or crawler is working well and down towards Namakan minnows seem to be the preferred bait on most days.  We were still catching fish quite consistently with a jig and minnow late last week.  Being mobile is key looking for active fish.  Move until you find fish that are willing to take what you are offering but don't hesitate to switch up your presentation until something works. Check depths all over the scale from 8'-30'.  Give Lost Bay and the mid lake reefs a try as the reports from those areas have been positive.
As always, we'll see you soon!
JASON and ROBYN –Gateway General  http://www.gatewaygeneral.com
REEL STUFF
More from ICAST! 
As mentioned, Mike Frisch was at ICAST  recently and saw lots of new stuff.  In last edition, we detailed some of those items.  Here are some more noteworthy things Mike saw, most of which will be available to the public this fall or winter, in time for 2019:
NEW LEW'S SPINNING REELS!
Lew's introduced lots of exciting new products at ICAST.  For Midwestern anglers who spend lots of time with spinning rods and reels in their hands, the new Custom Pro Speed Spin Spinning Reel and Custom Speed Spin Spinning Reel are two new reels certainly worth checking out.  They are buttery smooth, light, and appear very well built!  The Custom Pro features a 12-bearing system and the Custom has a 10-bearing system.
MORE FIRE-BALL JIGS! 
The Northland Tackle Fire-Ball and Stand-Up Fire-Ball jigs, with their "short-shank, wide-gap" hooks, have put lots and lots of walleyes in boats over the years.  The traditional and stand-up versions both get new UV color pattern options for 2019.
Both versions will also be available in 2019 in long-shanked models too.  That means they'll be good for use with bigger minnows and plastics, and they are available in the new UV colors as well!
STRIKE KING CONTINUES THE BASS ATTACK!
Strike King has a line-up of products for every fishing situation bass anglers encounter!  The company added to their already impressive arsenal for 2019.  The bass in the cover photo of this REEL-TIMES was caught on a Strike King KVD Sexy Frog.  The new Hack Attack Pad Perch joins the company's top-water arsenal in 2019.  This bait is designed to work in heavy cover like brush and lily pads and comes with a beefy double hook and collapses easily for good hook ups.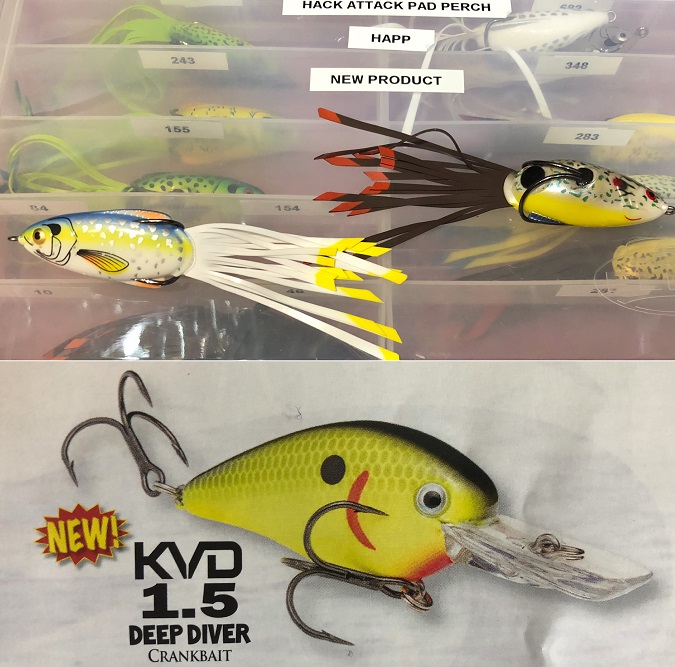 The KVD 1.5 has been one of the hottest crankbaits on the market since its introduction, and for one good reason: it flat out catches 'em!  Now it comes in a deeper diving version, designed to run to 9-feet and beyond and in the same size with the same great action and profile.