Fenix ld75C is a multi use flashlight for any hunter, angler, camper or family. It should be made part of your safety kits and emergency road side boxes. ODU received the light with two sets (8 batteries total) of rechargeable batteries ( and charger) and we used it throughout the summer with out fail. This flashlight is a durable, well suited, multi-functional light to be used in all occasions. The light saw action in night fishing, hikes and camping. We took the light out hunting for raccoon and coyote tracking. The only misfortune we had with the light was that we didn't have two or three to pass around. The strength of the light was equal to several of the spot lights we used hunting and easily lit up trees fifty feet up, at maximum brightness. Brightness levels equal five and the later two levels really light up an area. Another component the light has is a flashing feature that is a great safety option and can be scene over a long distances; land and water. Having trouble reading maps, books, guides and seeing features on your electronic at night? How about finding blood at night and finishing your hunt with success. This light shines here. Its red, green, and blue LED's make these challenges evaporate. After running out our first set of batteries to their end, they recharge in an afternoon and we were set to go. Battery life was excellent and really depends on which levels of brightness you use. We feel we got 4 – 7 hours of variable use out of the lights without loss of functionality.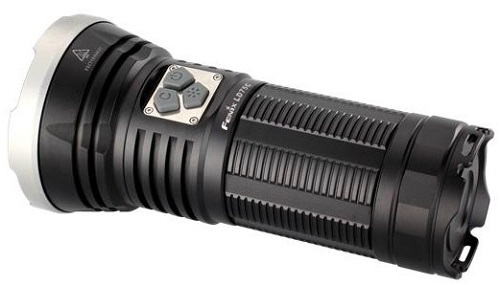 Overall this is a great product and we would highly recommend.
~~~~~~~
Product Description
Incredibly Bright Compact Search Light
Fenix truly outdid themselves when they released this beast of a search light. Measuring under 6.5 inches in length, this compact search light can produce a whopping 4200 lumens in its highest mode. That makes it one of the brightest flashlights on the market, regardless of size.  Powered by four rechargeable 18650 batteries, this light has the power, reliability, and functionality to make it one of the most impressive LED devices available.
Red, Green, Blue, and White LED's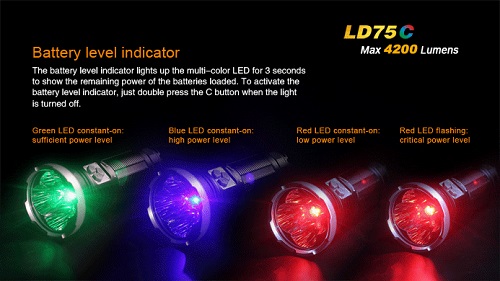 On top of its ultra-bright XM-L2 U2 primary LED, the LD75 also packs red, green, and blue LED's. Each of these modes offers preserved night vision, enhanced, map reading, and optimal blood tracking for hunters, hikers, tactical users, and adventurers. Accessing the various modes is easy with the light's three side-switch configuration. Each colored light has a single mode, while the primary white light has five outputs to choose from.
Advanced Circuitry
The LD75's double circuit design provides flexible power options so you can power your light in a jam. Normally, the light runs off of four 18650's or eight CR123's. Thanks to its advanced circuitry, the light can also run off of only two 18650's or four CR123's. The light is fitted with reverse polarity protection and thermal protection which guards against improper battery installation and high temperatures.