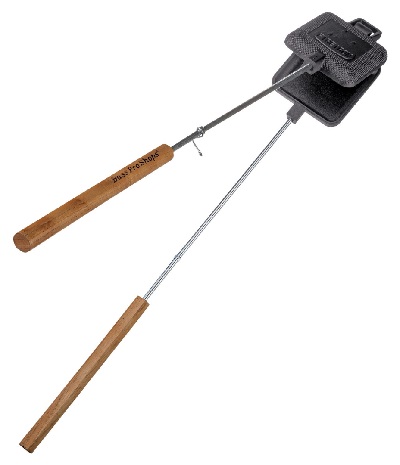 One of my favorite campfire meals centers around two main styles, a tinfoil meal and a cast iron pie maker. Bass Pro Shops has in it own product line of these a Single and Double Camp Fire Iron that fit the ticket on our spring outings and we made a bunch of delicious concoctions.
Before we get to what we made, lets get down to it … is this product a good buy from Bass Pro Shops? YES! At $17.99 you should buy one for every member of the family, because just one is not enough. The product cleaned up well after every use, and in most cases we used a little Pam non-stick spray to make all our food creations pop out perfect. The camp fire iron was used about hundred times in two outings and was perfect. The metal clip that creates the pressure to keep the cooker closed work flawlessly. Order yours here: http://www.basspro.com/Bass-Pro-Shops-Single-Camp-Fire-Iron/product/14052806512530/
What did we make? First and most importantly was the bread choose. If you choose the wrong bread, the sandwiches/pies you make will burn. The bread needs to be moister than most. We went with Natures Own Butter Bread and it was perfect. All we did in every dish is spray the inside of each side ot the camp fire iron, with Pam spray, places one piece of bread inside one side of the iron, put our delicious concoction on the middle of that bread about 1/3 to a 1/ cup, put anther piece of bread on top of the delicious concoction and close the iron. Set in the hot coals of the fir for ten minutes, let stand to cool a few minutes, opened and served. Yum!!!
Delicious concoctions:
Apply pie filling – Apple Pie

Small half cut meatballs, tomato sauce, mozzarella cheese & parmesan cheese –  Meatball Parm

Precooked shredded chicken, tomato sauce, mozzarella cheese & parmesan cheese –  Chicken Parm

One ege, slice of American cheese, rare cooked bacon cut up – Gas Station Style Egg Sandwich

Small hamburger ball – flattened out thin and lean cut 90/10, your choice of cheese – Cheese Burger
Keep on creating and have fun at the campfirs, these campfire tools are the best.