This edition will take our loyal and new ODU readers on a rather interesting trip. On the Fishing Zone side anglers can look forward to coverage on bass, walleye, crappie, sturgeon, trout, bowfishing, tackle and boating tips. ODU then switches to outdoor pieces that will may think more about our pass time and also introduce you to falconry from an expert. Finally our Hunting Zone talks guns and hunting predators, for those of you who have already tagged out on turkey.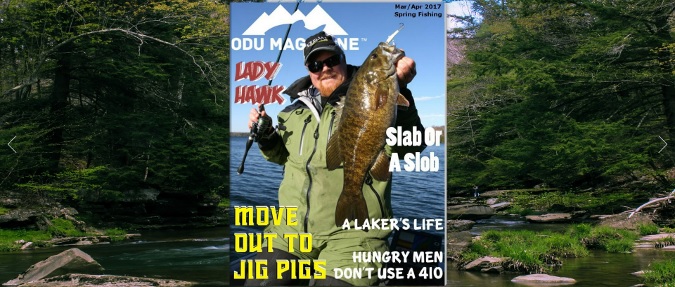 Articles to look for in this edition:
FISHING ZONE
     The Perfect Role Model, Pg 8
     Open Water 2017, Pg 12
     Smart Man Over, Pg 15
     Mishandling At The Highest, Pg 18
     Slab Or A Slob, Pg 22
     Running and Gunning, , Pg 24
     Move Out To Jig Pigs, Pg 29
     A Date With A Dinosaur, Pg 33
     Early Season Checklist for Walleyes, Pg 38
     From Spawn To Ice: A Laker's Life, Pg 42
     Going Overhead for Spawning Bass, Pg 45
     Fishing with St. Joe, Pg 46
     Girl's Night Out Bowfishing, Pg 50
     The Solar Lunar Table, Pg 52
     Fishing Tackle Tips for the Apocalypse, Pg 53
OUTDOOR ZONE
     More Outdoor memories, Pg 58
     Lady Hawk, Pg 63
HUNTING ZONE
     Sight Seeing, Pg 67
     Stoeger Coach Gun, Pg 70
     Hungry Men Don't Use A 410, Pg 72
     Predator Primer, Pg 76
     A "Come to Jesus" Moment, Pg 83
     The Dual, Pg 86
Thank you for reading, sharing and sharing the outdoors with your neighbor.
WS